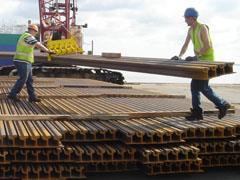 Australia: ARTC signed an agreement with Leighton Contractors on July 29 creating the Upper Hunter Valley Alliance to deliver A$152m of works to increase rail capacity on the Hunter Valley coal corridor. Sub-alliance partners include Parsons Brinckerhoff, Coffey Geotechnics and KMH Environmental.
Last month Siemens completed electrification of QR's Jilalan yard.
Macmahon and MVM Rail have contracts worth A$100m under the Ulan Line Alliance programme for passing loops and tunnel ventilation between Muswellbrook and Ulan.
Canada: Lovat has signed a C$58·4m contract to supply four tunnel boring machines for the 8·6 km Spadina subway extension from Downsview to Vaughan Corporate Centre near Toronto. Opening is planned for 2015.
China: Chengdu Metro has placed an US$5m order with Harsco for a 20-stone rail grinder.
India: Electrification of the 70 km between Ariyalur and Tiruchchirappalli has been completed, and the 120 km Villupuram – Mayiladuthurai line converted from metre to broad gauge.
Iran: Turkish steel manufacturer Kardemir has signed a deal to supply RAI with 30 000 tonnes of rail.
South Korea: Alcatel-Lucent has successfully deployed a converged IP-based communications network, using its Omniswitch technology, on Seoul Metro lines 1 to 4.
Poland: PKP and Nienver have signed a deal to redevelop the main station in Katowice by 2012. This includes adding a shopping mall and offices, pedestrianising adjacent streets and relocating the bus station underground. PKP will modernise the railway facilities itself after 2013.
Spain: ADIF has awarded Constructora San José a €69·2m contract for civil works on the 10·3 km Vera – Los Gallardos section of the Murcia – Almería high speed line. Sacyr is to build the 8·2 km Los Gallardos – Sorbas section for €79m.
A joint venture of Cyopsa-Sisocia, Construcciones Sarrión and Tableros Fuentes has been awarded a €78·1m contract for civil works on the 17·5 km Pozo de Urama – Río Cea section of the high speed line between Palencia and León. Work is expected to take 21 months to complete, including a 53 m viaduct over the existing route.
Sacyr has been awarded a €5·1m contract to build a temporary station at Alt Empordà on the outskirts of Figueres, served by the high speed line to Barcelona and the conventional route to the French border. There will be a single platform 660 m long and 10 m wide.
A €3·6m contract to rebuild Xàtiva station for high speed services has been awarded to a joint venture of Torrescámara and Ferrando. This includes modifying electrification, telecommunications and signalling equipment.
Sweden: Skanska has been awarded a SKr520m contract for the BanaVäg project combining 3·4 km of double tracking with upgrading the E45 to motorway standard between Agnesberg and Älvängen.
Turkey: Prime Minister Recep Tayyip Erdogan attended the welding of the first rail for the 213 km Ankara – Konya direct line at Pinatbasi near Konya on July 17. Railway and electromechanical works are being undertaken by Yapi Merkezi. The line is designed for 250 km/h running, and will open in late 2010.
UK: Network Rail has awarded its first modal signalling contract to Westinghouse Rail Systems. The use of a small range of core components to implement signalling schemes is being piloted between Crewe and Shrewsbury.
USA: PATH has awarded Ansaldo STS a $24·7m contract to supply an integrated communications network including Centralised Traffic Control based on the Hermes platform, Scada, voice and data communications, CCTV and passenger information.
Work on a $65m maintenance depot in eastern Stockton for the Altamont Commuter Express is scheduled to start this month, and will take two years. Since services to San Jose began in 1999, maintenance has been performed in leased space within UP's Stockton yard.