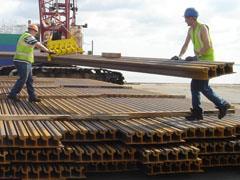 Australia: Bombardier has awarded Balfour Beatty Rail an A$14m contract to supply overhead line equipment for the Gold Coast tram project (RG 2.12 p59).
China: China Railway First Survey & Design Institute has begun construction of a 25 km line to serve Zangge Potash Co's Qaidam Basin site in Qinghai province.
Chile: Systra has signed a six-year contract to provide Santiago Metro with technical assistance for the construction of driverless lines 3 and 6. Line 3 will be 221 km with 18 stations from Américo Vespucio to Tobalaba/Larrain. Line 6 will be 153 km with 10 stations, linking Pedro Aguirre Cerda and Los Leones.
Czech Republic: Infrastructure manager SŽDC has awarded Kapsch CarrierCom a contract to supply
GSM-R for the 172 km Dín – Ústí nad Labem – Mlník – Všetaty – Kolín route by June 2013. EU cohesion funding is meeting 85% of the KC350m cost.
France: Lille operator Transpole has awarded a Bombardier a €10m contract to modernise the city's tramway in co-operation with Hovart and Sogema.
Greece: Erga OSE has awarded a €79m contract to a consortium of
J & P Avax/Aegek Construction and Intrakat to build a 6 km section of standard-gauge double track route between the 73 km and 79 km points on the Kiato – Rododafni line.
Israel: Vossloh Rail fastenings has won a €0·9m contract to supply SKL W14 fastenings to ISR.
Kazakhstan: Siemens has signed a €230m framework to supply the TemirZhol Electrification joint venture with KTZ subsidiary Remlokomotiv with electrification equipment and assist with the modernisation of more than 40 traction substations. KTZ says the deal will see local content in electrification equipment increase from 20% to 50%.
South Korea: Hyundai Rotem has awarded Thales a contract to supply CBTC for the 12 km extension of the Sin Bundang Line driverless metro near Seoul.
Lithuania: Roomdimensions and Indra Sistemas have completed a project to modernise LG's largest signalling control centre.
Poland: The AGP consortium responsible for building Warszawa metro Line 2 has awarded Tines a contract to supply more than 40000 Edilon Corkelast EBS block sleepers and 55000 m2 of Trackelast vibration-insulating mats.
PKP PLK has awarded a consortium of Pol-Aqua, Dragados, Vias y Construcciones and Electren a 526m złoty contract to supply an electronic control centre covering Siedlce, uków and Midzyrzec Podlaski stations on corridor E20. They will also provide hot box detectors and the UOZ system which uses sound to deter wildlife from crossing the tracks when a train is due.
Singapore: LTA has awarded Alstom a €40m contract to supply trackwork for the 7·5 km Tuas West metro extension, plus 18·5 km of depot tracks.
Slovakia: ŽSR has awarded a consortium of OHL and Váhostav-SK a €92m contract to modernise and electrify at 15 kV a 9 km section of Corridor V between Beluša and Púchov for 160 km/h operation. Work will also include modernisation of Beluša and Púchov stations.
Turkey: The Central Finance & Contracts Unit has awarded a consortium of Tecnica y Proyectos, Safege and Eser Consulting Engineering a €7m contract to supervise rehabilitation and resignalling the Irmak – Karabük – Zonguldak line (RG 3.12 p62).
UK: High Speed 2 project promoter HS2 Ltd has awarded Arup a £10m contract to produce preliminary designs for the redevelopment of London Euston station, supported by Grimshaw and Costain.
Network Rail has awarded Carillion a £120m contract for depot and stabling siding works to support 12-car trains on the Thameslink route.
USA: On March 5 Harsco announced orders totalling $25m to supply tampers, ballast regulators and track stabilisers to customers in the USA, Canada and Australia.
New York MTA has awarded Thales and Siemens a $60m four-year contract to provide a communications-based train control test and validation track on part of the subway's F Culver Line, and develop specifications for future CBTC projects.