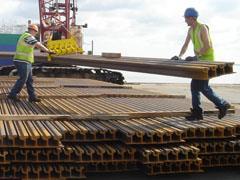 Australia: Fortescue has awarded Brierty a A$60m contract to build a 25 km branch to the Solomon iron ore project by June 2012 and a A$10m contract for civil works on a refuelling facility on the Cloudbreak line.
China: Vossloh has won a €35m contract to supply rail fasteners for the 806 km Fuzhou – Hefei PDL.
Czech Republic: SZDC has awarded Skanska a KC942m contract for upgrading works at Plzen including bridge reconstruction.
France: A consortium of Sacer PNE, Screg Est, Roger Martin, Colas Rail and Alstom has signed a €40m construction and tracklaying contract for a 7·1 km section of the Besançon tramway.
Israel: Gili & Yoel Azariya has won a US$43·6m contract to build a depot to maintain double-deck cars at Be'er-Sheva North University station.
Ashtrom has won a US$85·2m contract covering earthworks, bridges and other infrastructure for the Netivot – Goral Junction section of the Be'er-Sheva line.
DHV has been awarded a contract to design five underground stations for the Tel Aviv metro.
Italy: RFI has awarded Bombardier a €10m contract for signalling works at Monfalcone.
Latvia: LD has awarded BMGS a €38·9m contract to modernise the Širotavas hump yard in Riga.
Malaysia: Scomi Engineering has awarded Thales a €13·5m contract to provide ETCS Level 1 for upgrading the Kuala Lumpur monorail for four-car operation from November 2012.
Netherlands: ProRail has awarded VolkerRail a €23m contract for infrastructure maintenance in Zeeland from January 2012 to the end of 2016.
New Zealand: Harsco is to supply KiwiRail with three paired sets of tampers and ballast regulators, the first to have the Jupiter control system enabling paired sets to be driven from either vehicle and providing real-time control, monitoring and diagnostics.
Poland: AGP Metro Polska has awarded ABB a US$15m contract to supply four combined traction/auxiliary substations and three auxiliary substations for Warsaw metro Line 2, due to open in 2013. One will be equipped with double-layer super-capacitors to store up to 40 MJ of energy from regenerative braking.
Romania: CFR-SA has awarded a joint venture of Swietelsky, Stabag, Alstom, Arcada, Euroconstruct and Transferoviar a €312m contract for upgrading between Vintu de Jos and Simeria, including structures, track, electrification and communications.
Singapore: LTA has awarded Shanghai Tunnel Engineering a S$190m contract to build the elevated Tuas station and 2·8 km of viaduct by 2016 as part of the Tuas West Extension project.
Spain: Aldesa Construcciones, Coalvi and Proacon have won a €94m contract to build the 32 km Lubián – La Canda section of the Madrid – Ourense high speed line, including 26 km in tunnel. Copasa, Tableros y Puentes and Imathia Construcción are to build one of the twin bores of the 54 km O Cañizo tunnel under a €736m contract.
ADIF has awarded ArcelorMittal España a three-year contract worth €79m to supply rail for the 1668 mm gauge network. A second contract worth €85m and covering the remaining two of seven lots has been awarded to TSTG Schienen Technik. ArcelorMittal also has a 12-month contract worth €219m covering 90 m rail welded into 270 m sections for high speed projects.
Sweden: Trafikverket has awarded Balfour Beatty Rail a SKr330m contract to undertake track, electrification, signalling and other works for the Stockholm – Södertälje doubling.
Turkey: On November 16 Alstom announced a €89m contract to supply ETCS Level 1 and 2 signalling and telecoms for a TCDD project to raise speeds to 160 km/h on the 238 km line from Eskisehir to Kütahya and Balkesir by November 2014.
UK: Network Rail has awarded Invensys Rail the £28m Reading Western Mainlines signalling contract, covering the Sonning – Pangbourne area. Commissioning will run from Easter 2013 to August 2015.
NR has awarded VolkerFitzpatrick a £362m contract to build a rolling stock maintenance facility at Reading.
NR has awarded Balfour Beatty Rail a £19m contract to carry out capacity improvements between Finsbury Park and Alexandra Palace at the London end of the East Coast Main Line, upgrading a freight track to provide a second northbound track for local passenger services.
USA: New York MTA has awarded Skanska USA and Traylor Bros a $301m contract to build the station cavern and basic structure for 86th Street station on Phase 1 of the Second Avenue subway by late 2014.
A Skanska/Railworks JV has been awarded a $514m contract for 'finish work' on the West Side extension of the No 7 subway in New York. This includes the installation of track, signalling and communications and fitting out the terminal station at 34th Street and 11th Avenue.
Herzog Technologies has been awarded a $32m contract to install PTC on North County Transit District's Oceanside – San Diego route.