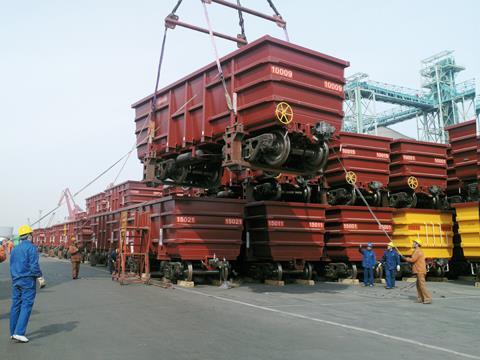 Botswana: BR Procurement Manager Mogwena Mookodi has announced plans to acquire 160 open wagons to carry bulk export salt from Botswana Ash's plant to the port of Durban in South Africa.
Canada: Assisted by the federal ecoFreight programme, Montréal Port Authority has ordered a 2000 hp genset locomotive from RJ Corman Railpower for C$1·6m, with an option for a further four.
Faiveley Transport is to supply brakes, doors and air-conditioning for the 204 low-floor trams being built for Toronto by Bombardier. The deal includes options for up to 410 more vehicles.
China: Nexans has won a €9·5m contract to supply China Northern with Flamex cables for high speed trains.
Czech Republic: CD Cargo has signed a KC1·16bn 10-year sale and lease-back agreement with Financial Found covering 1145 wagons, which will revert to railway ownership on January 1 2020.
Germany: After being selected by Rhein-Main transport authority to operate regional services between Limburg, Gießen, Fulda and Gersfeld for 12 years from December 2011, Hessische Landesbahn has ordered a further 23 two-car Alstom Coradia Lint 41 DMUs worth €65m through Hannover Mobilien Leasing.
Fogtec has won contracts to supply Stadler with fire detection and suppression systems for use on multiple-units for Norway, Austria, Italy and the USA.
Israel: On March 9 Siemens Mobility signed a €47m contract to supply ISR with a further 31 Viaggio Light coaches including four driving trailers, as follow-on to the initial 2006 order for 87 cars which included options for a further 585. They will be delivered from Wien in 2011 for use on the Tel Aviv – Rishon Le-Zion route.
Poland: Bombardier and Vossloh Kiepe were the only bidders for a contract to supply 24 trams to MPK Kraków. The NGT8 cars will be delivered in 2012-13 at a cost of €58·7m.
A 6·3m zloty joint bid from ZNTK MM and Pesa has been selected for a contract to modernize six 105Na trams in Grudziadz. A 53·2m zloty project will also see single-track sections of the 19 km metre-gauge network doubled, real-time information introduced and noise and vibration reduced.
Dolnoslaskie voivodship has selected ZNTK MM to supply six single-car and three two-car DMUs for 46·7m zloty by November 2012.
Russia: On March 4 Freight One announced contracts for Ruzkhimmash to supply 1800 tank and 1800 open wagons in 2010. It bought 8000 wagons in 2009, almost half the total Russian output, and plans to purchase at least 15000 this year.
Sinara's Ural Railway Engineering Plant is to supply RZD with 240 2ES6 electric locomotives worth 23·2bn roubles in 2010-12.
Mining firm Mikhailovsky GOK has taken delivery of three NP-1 electric locomotives with improved air-conditioning and heated windows from Transmash's Novocherkassk Electric Locomotive Plant.
Saudi Arabia: EMD and Mohawarean Group have agreed to form a joint venture to provide locomotive maintenance and repowering services.
Serbia: Metrovagonmash is to supply ZS with 10 two-car DMUs for regional and suburban services from 2012, partly funded by a SFr43m loan from Eurofima.
Slovakia: The first of 10 three-car Class 671/071/971 dual-voltage double-deck EMUs derived from CD's CityElefant design was rolled out at Skoda Vagonka's Ostrava-Vítkovice plant on February 5.
UK: Leasing company Angel Trains has acquired three HST trainsets from Sovereign Trains, sister company of open access operator Grand Central Railway, under a sale and leaseback contract running to December 2016. Brush Traction will install MTU engines and modify the coaches.
Hima-Sella is to supply Hitachi with Deuta-Werka driver displays and Doppler speed radar equipment for ETCS trials.
A contract for preferred bidder Agility Trains to supply up to 1400 vehicles under the Intercity Express Programme will not be signed before this year's general election, the government confirmed on February 26. The economic crisis and electrification commitments have prolonged negotiations. A value for money review is to be undertaken before the project proceeds further.
USA: Oregon is using federal stimulus funding to place a $36·6m order for two 13-car Talgo trainsets for use on Amtrak's Eugene – Vancouver service from 2012, pooling resources with Wisconsin which has ordered two 14-car sets. Talgo is to establish an assembly plant in Milwaukee.