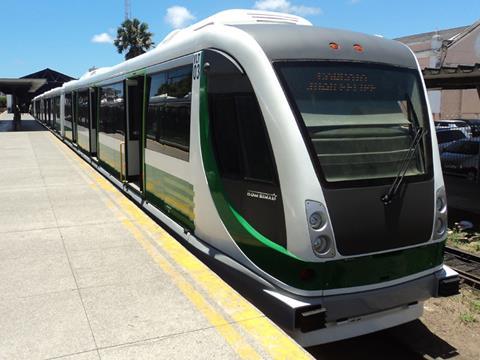 Angola: The government and GE Transportation signed an accord on February 14 which could lead to the supply of about 100 locomotives for Angolan operators.
Australia: On January 31 Qube Logistics signed a contract for CSR Ziyang to supply six Pandaroo diesel locos by the end of this year. Qube has secured several freight contracts, and expects to acquire further rolling stock during the second half of the year.
Brazil: Bom Sinal has ordered 68 Voith DiwaPack underfloor powerpacks with 338 kW MAN engines for use on DMUs being built for a number of operators.
China: CSR Meishan has developed a wagon for export which can discharge and spread ballast while moving at walking pace.
CSR Zhuzhou Electric Locomotive has been awarded contracts to supply locos to Wuhan Railway Bureau (1·5bn yuan ), China Shenhua Energy Co (1·15bn yuan) and Shuohuang Railway Development Co (270m).
CNR Tangshan has ordered Liebherr hydraulic anti-buckling systems for use on low-floor trams it is to build.
Chengdu has ordered 22 trams for its future network, after testing a prototype Vossloh Tramlink car.
Colombia: CSR Yangtze has delivered 150 open wagons with aluminium alloy bodies to Colombia.
Congo: CFCO is buying 43 coaches from South Africa's Prasa.
Czech Republic: Pars Nova has completed a prototype modernised Bdmpee coach for CD, fitting a retention toilet, information system and power sockets. A total of 40 are to be modernised for use on EuroCity services under a €27·3m contract.
France: Strukton Rolling Stock is to supply new auxiliary converters for the refurbishment of 28 VAL206 metro cars in Toulouse.
Germany: CAF has won a contract worth around €40m to supply 12 seven-section Urbos 100 low-floor trams to Freiburg, along with spare parts.
Hungary: During February sole bidder Stadler was selected for a joint contract to supply 42 Flirt EMUs to MÁV and six to GySEV. Deliveries are to be completed by October 2015.
Italy: With the agreement of Stadler, STA Strutture Trasporto Alto Adige has transferred an €17·5m option for two six-car Flirt EMUs to Trentino Trasporti.
DB Waggonbau Niesky has delivered 100 Laaers 560.1 double-deck car-carrying wagons to Sitfa.
Kazakhstan: Following the delivery of an initial locomotive last year, in February CSR Ziyang received an order to supply 10 main line diesel locos rated at 2 430 kW to an unspecified customer. Similar locos have previously been supplied to Turkmenistan.
Mauritania: Société Nationale Industrielle et Minière has placed a 160m yuan wagon order with CSR Meishan.
Nigeria: CSR Nanjing Puzhen is to supply Kintech Nigeria with DMUs and coaches worth 100m yuan.
Norway: Stadler announced on February 26 that NSB had finalised a firm order for a further 16 Class 75 five-car Flirt EMUs to be delivered in 2014-15. The NKr1·1bn order has been placed within a 2008 framework for 50 units with options for up to 100.
Poland: Pesa has been confirmed as the winner of a contract to supply four two-car Link DMUs to Lubuskie voivodship for 47·6m złoty.
MPK Wrocław has awarded Brzazgacz Effer a 4·65m złoty contract to supply a tram rescue and maintenance vehicle equipped with a crane.
PKP IC has sold six EU/EP07 electric locomotives to ZNTK Olesnica (three), ZPNTMiU (one) and Orion Kolej (two).
Russia: The Wärtsilä TMH Diesel Engine joint venture has signed a contract to supply BMZ Bryansk with 12 20L engines for TEM 18B shunters.
RZD has awarded Transmashholding a 40-year contract to maintain the 200 EP20 dual-voltage passenger locos being supplied by TMH and Alstom.
Jilin Midas Aluminium Industries has won a €22·7m contract to supply the Siemens/Sinara Ural Locomotives joint venture with extruded aluminium alloy profiles for production of Desiro RUS EMUs in 2013-19.
Switzerland: Through a joint procurement which the manufacturer says has saved SFr28m, Stadler has won orders to supply 17 EMUs worth SFr150m to Compagnie du Chemin de fer Montreux Oberland Bernois (four), Transports de la Région Morges-Bière-Cossonay (four), Transports Vallée de Joux Yverdon-les-Bains Ste-Croix (three) and Transports Publics Fribourgeois (six). Deliveries are scheduled for January 2015 to July 2016, and there are options worth a further SFr80m.
Turkey: On March 4 Škoda Transportation announced a €104·7m contract to supply 60 trams to Konya. The five-section air-conditioned Type 28T trams will be 100% low-floor bi-directional cars based on 31 ordered by Miskolc. Konya municipality plans to expand the 21 km line which is currently operated using second-hand cars from Köln.
UK: Transport for London's Rail for London subsidiary has awarded Bombardier a €88·5m firm order to supply 57 cars to lengthen the London Overground Class 378 EMU fleet from four to five cars.
Knorr-Bremse's Leader real-time driver advisory system is to be installed on 66 Bombardier Turbostar DMUs operated by Southern and London Midland, which are hoping to see improved timekeeping and a reduction in fuel consumption as a result of optimised driving techniques.