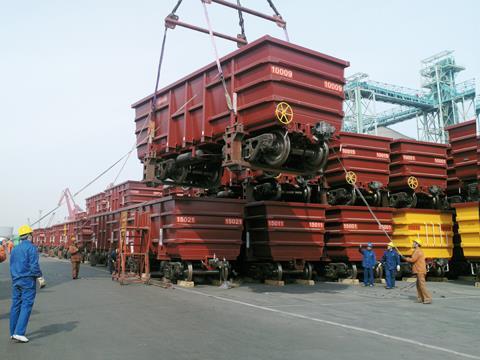 Angola: Using US$89m of government funding, CFB has signed contracts with China's CMEC for eight locomotives, 66 coaches and 94 wagons. Staff are to be trained in China.
Australia: Pacific National has ordered a further nine Class 7100 electric locomotives from Siemens for use on coal trains in Queensland.
Downer EDI is to market National Railway Equipment's N-ViroMotive genset locomotives in Australia.
Austria: Siemens is to supply Wiener Lokalbahnen Cargo with four more electric freight locomotives.
Brazil: CAF has ordered electrical equipment worth ¥4bn from Mitsubishi Electric for 288 EMU cars being supplied to CPTM in early 2011 for São Paulo Line 8.
China: CSR Nanjing Puzhen has appointed Interfleet Technology and the Institute of Sound & Vibration Research at the UK's University of Southampton to analyse wheel designs for the Shanghai metro, seeking better understanding of noise and thermal and structural dynamics.
The Ministry of Railways has ordered an additional 40 CRH1 Zefiro trainsets from Bombardier Sifang (Qingdao) Transportation at a cost of 5·2bn yuan. The 250 km/h eight-car trains will have capacity for 604 passengers, with a 'VIP car' incorporating 1st class seats. Deliveries will begin in September and run to May 2011.
Cuba: Eurosib-Logistics has delivered 50 Russian-built ballast wagons.
Czech Republic: D has awarded CZ Loko a KC678m contract to fit 19 Class 750 locomotives with Caterpillar 5312BG DI-TA engines, funded through a lease-back deal with Impuls-leasing Austria.
RegioJet has called tenders for the supply of 20 coaches suitable for at least 160 km/h to support its planned bids for contracts to operate long-distance services (RG 6.10 p15).
Europe: On July 12 VTG bought 1100 grain wagons and a 75% stake in French rail logistics company TMF from Ermewa. The remaining 25% of TMF is held by the Express-Interfracht Internationale Spedition subsidiary of Rail Cargo Austria.
Germany: Bombardier is to supply DB with a further 21 double-deck coaches worth €34m for use in Sachsen-Anhalt from the end of 2010.
India: On June 30 Bombardier announced an €83m order to supply Delhi Metro Rail Corp with a further 74 Movia cars by 2011, with an option for another 40.
CSR Zhuzhou is to supply Siemens with 15 three-car aluminium-bodied air-conditioned metro trains between November 2011 and March 2012 for the 6·1 km six-station elevated line being built by Rapid MetroRail Gurgaon (RG 6.10 p20).
Netherlands: On July 2 Arriva placed a €140m order for a further 14 electric and 24 diesel Stadler GTW units to be delivered from late 2012 for the Vechtdal Lines and Rivierenland - Achterhoek concessions.
New Zealand: KiwiRail has shortlisted Hitachi, Hyundai Rotem, Bombardier and a consortium of CAF and Mitsubishi to supply up to 38 three-car EMUs for Auckland. The winner will be named by the second quarter of 2011 and deliveries begin in 2013.
Poland: PR has begun trial running with two DH-I and DH-II DMUs bought secondhand from the Netherlands by Sigma Tabor. Swietokrzyskie Voivodship has ordered four two-car EMUs from Pesa for delivery in late 2011 at a cost of 46m złoty.
Russia: Independent Transport Co paid 3bn roubles to acquire 10000 open wagons auctioned by RZD.
On July 15 Siemens and RZD subsidiary Aeroexpress agreed to form a joint venture to produce and service 1200 'Lastochka' Desiro ML suburban EMU cars from 2012 (RG 7.10 p20).
MTU is to supply Metrovagonmash with more than 100 Powerpacks in 2011-13 for use on DMU cars.
Freight One has ordered 300 open wagons from Vagonmash and 200 from Barnaul for delivery this year.
Switzerland: This month Slovak firm ŽOS begins work on a SFr19m contract to rebuild 440 SBB Type Eaos four-axle wagons as Fas scrap carriers by September 2011.
Tunisia: On July 20 Alstom announced a €58m contract to supply Tunis with a further 16 trams which Alstom will maintain for five years, taking the city's Citadis fleet to 55 cars.
UK: Porterbrook has paid £54m to buy 11 four-car Bombardier Class 377/5 EMUs ordered by Southern and subleased to First Capital Connect.
VTG Rail UK has acquired BP Oil's 124 tank wagons through a purchase and leaseback deal.
USA: Under a $115m order MotivePower is to supply 20 HSP46 diesel locomotives in 2013 for MBTA commuter services. The 4600 hp locomotives will have 12-cylinder GEVO engines supplied by GE.