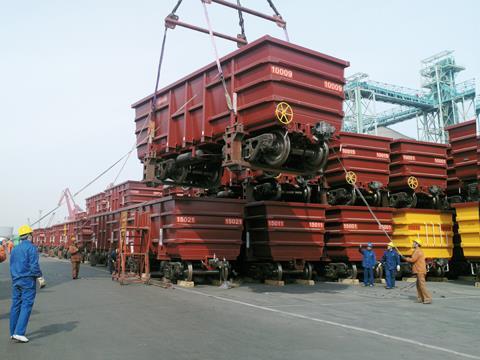 Argentina: On June 27 CNR finalised a US$320m contract to supply 20 locomotives and 220 long-distance coaches from July 2012; it is CNR's largest passenger train export order.
Australia: Victoria's state government has placed a A$210m order for an extra seven Alstom X'Trapolis six-car EMUs for use on Melbourne suburban services to Epping and Hurstbridge from 2013. Orders for 33 more are planned.
Public Transport Authority of Western Australia has placed a A$160m order for a 50: 50 joint venture of Bombardier and Downer EDI to deliver a further 15 three-car Series B EMUs from September 2013.
Canada: Metrolinx has awarded CAD Railway Industries a five-year contract worth C$120m to refurbish 127 GO Transit coaches.
Chile: Metro de Santiago has exercised an option with CAF for the supply of 108 cars at a cost of US$144m. Equipped for CBTC, the air-conditioned cars are due to be delivered between in 2012-13 for lines 1, 2 and 5.
China: Under a €25m contract Knorr-Bremse's Suzhou plant is to supply braking systems for 64 eight-car metro trains that CNR Changchun is building for Beijing Line 6.
CSR Zhuzhou has won a 600m yuan contract to supply trains for the future 21·9 km Changsha metro Line 2.
Congo DR: King Albert II of the Belgians handed over two regauged CKD Praha Class 742 diesel locos to mark the 51st anniversary of independence on June 30. DPOV Nymburk sold them to transport agency SCTP via Belgian company DAXI.
Czech Republic: In mid-June CD finally agreed to buy 16 Siemens Viaggio Comfort (Railjet) trainsets from Siemens for €200m after ÖBB decided not to take up an option for them.
CD has bought 32 second class coaches from ÖBB for €2m which will be refurbished by ZOS Ceské Velenice. RegioJet has bought another 12, to accompany 50 new vehicles on order from Astra Vagoane Calatori.
CD has awarded Pars Nova Sumperk KC280m contract to produce 11 more Class 814 Regionova two-car DMUs from Class 810/010 railcars and trailers, taking the total to 210 two-car and 26 three-car Regionovas.
Europe: Siemens is to supply Trainguard 200 ETCS Level 2 equipment for 30 Eurosprinter locomotives owned by leasing firm MRCE for use on the Brenner route.
Germany: Stadler is to supply Bodensee-Oberschwaben-Bahn with two more RS1 railcars in 2013 for €5m.
Polish manufacturer Solaris announced its first tram export order on July 12, a €13·7m contract to supply five metre-gauge Tramino cars to Jena in 2013. The 100% low-floor cars will be 29 m long, with three sections, four doors per side, 46 seats and air-conditioning.
International: Last month Evolution diesel locos built in Kazakhstan by the JSC Locomotiv/GE JV were sent to Russia and Estonia for type approval. This is expected to lead to orders from private operators. Tajikistan has expressed interesting in buying three locos and Mongolia 10.
Kazakhstan: On July 16 CNR Import & Export Corp signed a 960m yuan contract to supply a further batch of CNR coal wagons following on from 2000 being built under a November 2010 contract.
Lithuania: On July 18 LG signed a €39m order for two three-car and three two-car Skoda Class 575 City-Elefant double-deck EMUs to complement the four in use on Vilnius – Kaunas services.
Poland: PTK Koltar is taking delivery of two M62 locos modernised by Pesa at a cost of 4m złoty each with TMH Kolomna 2000 hp engines and cab air-conditioning.
Newag has won a 31m złoty contract to modernise four EN57 EMUs for Lódz voivodship, and a 21m złoty order covering three for Wielkopolskie. They will receive new doors, interior panels, seats, air-conditioning, Emit ychlin three-phase motors and Medcom electrics.
Newag has rebuilt two SM42 diesel locomotives to 6Dg standard for infrastructure maintenance contractor Pnuik Kraków.
Russia: TMH's Tver plant is supplying 13 Type 11-9960 nuclear reactor fuel wagons to power station operator Rosenergoatom.
Stadler Rail has won its first Russian order, a SFr240m contract to supply 100 four-axle diesel drive units to power a batch of 50 DMUs which RZD is to order from TMH subsidiary Metrovagonmash.
TMH's Demikhovsky works has begun production of a new generation of ED4M electric multiple-unit for Moscow Railway, featuring Kompaks-Express-3 onboard diagnostics, CCTV and revised heating and ventilation, gangways and lighting.
Spain: Under a €3m refurbishment programme for the Al Ándalus luxury tourist train (RG 3.11 p27), FEVE is managing work on seven sleeping cars while three vans, the service car and four saloons will be overhauled by RENFE's Sevilla wokshops.
Turkmenistan: China South announced a contract to supply 75 diesel locomotives on June 30, bringing the total ordered by TPK to 179. Deliveries will begin in October.
UK: Porterbrook Leasing has awarded Railcare a contract to overhaul two-car Class 156 DMUs and adapt them to meet the Passengers with Reduced Mobility TSI. Railcare will also overhaul single-car Class 153s, and study reconfiguring them back to a two-car formation.
USA: On July 20 Bombardier announced a $331m firm order to supply Chicago Transit Authority with 300 more 5000-series metro cars. The option under a July 2006 contract brings the total order to 706 cars worth $1bn.