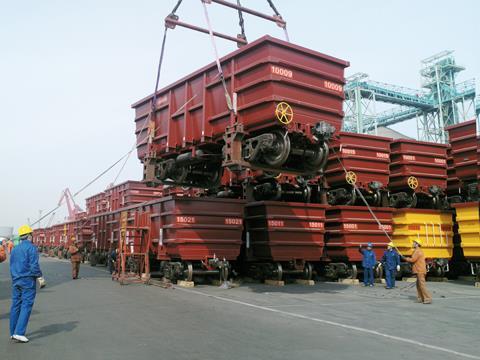 Belgium: Bombardier has been awarded a €168m subcontract to undertake painting, final assembly and testing at its Brugge plant of 115 of the Desiro ML trainsets on order from Siemens for Brussels RER services (RG 5.08 p289).
China: Last month China Southern announced orders from the Ministry of Railways for passenger rolling stock from the 25G vehicle family worth a total of 1·6bn yuan. On November 10 MOR said it plans to invest around 300bn yuan in locomotives and rolling stock in the next two years.
CNR Changchun has been awarded a contract to supply 27 four-car Type B trains for the 32 km six-stop line between Guangzhou and Foshan (RG 9.08 p584). They will have aluminium bodies, 950 seats, a top speed of 80 km/h and Siemens transmissions.
Congo DR: On November 3 China Northern shipped a total of four 1 000 hp CKD5 Bo-Bo and 1 800 hp CKD7C Co-Co diesel-electric locos from Dalian. Ordered in June 2007, the CKD7C single-cab 1 067 mm gauge locos have CAT3512 engines and will be used in mixed traffic service
Croatia: In late October Koncar returned to HZ the first of 10 electric locomotives being refurbished under a contract signed in September 2007.
Czech Republic: Voith Turbo Lokomotivetechnik's prototype Gravita 10BB shunting and short-haul locomotive began test running at the Velim circuit during November. Deutsche Bahn has placed a €250m order for 130 of the diesel-hydraulic locomotives (RG 9.08 p634).
Iran: In October Ata Tous Rail Corp awarded Tüvasas a €87·2m contract to supply 84 couchette, eight buffet and eight generator cars within 24 months.
Kazakhstan: On October 23 China Southern's Zhuzhou Electric Locomotive subsidiary announced a US$100m order to supply KTZ with 4·8 MW electric locos with AC drives and a top speed of 200 km/h.
Lithuania: LG has exercised an option for a further 10 Siemens ER20CF freight locos, to be delivered from May to September 2010 in a deal worth more than €35m including maintenance. They are an option on a €123m order for 34 placed in 2005; 20 have now been delivered.
Malaysia: KTMB is reported to have selected Mitsubishi and Hyundai Rotem to supply 30 EMU cars worth 240m ringgit for Kuala Lumpur – Ipoh services.
Montenegro: TZV Gredelj of Croatia has won a €3·5m contract to modernise 10 ZCG coaches. Five will re-enter service by June in time for Beograd – Bar holiday traffic.
Netherlands: Bestuur Regio Utrecht has agreed to lease six three-car Wien trams for sneltram operator Connexxion (RG 5.08 p 279). They will be introduced in January to work limited-stop peak services on the Nieuwegein line.
Poland: Following the transfer of long-distance regional trains from PKP PR to PKP Intercity, the inter-city division plans to call tenders early next year for delivery of 55 double-deck coaches by 2012. In addition, 57 new EMUs will be sought, 270 EN57 EMUs refurbished and €283m will be spent refurbishing 400 other vehicles.
PKP PR has chosen sole bidder ZNTK Minsk Mazowiecki for a contract to modernise seven EN71 and five ED72 EMUs.
Slovakia: ZOS Vrutky has won a €47m contract to supply ZSSK with 15 second and five first class coaches within four years, with an option for a further 10. They will be based on the Ampeer/Bmpeer design now being delivered (RG 11.08 p904)
Spain: Trainelec is supplying 22 compact 750 V DC, 300 kW IGBT traction converters for the 11 low-floor trams being built by CAF for the 9 km Y-shaped metre-gauge tram network in Vitoria (RG 11.08 p850). Deliveries are scheduled to be completed by February 2009.
Sweden: Green Cargo has placed a €51m order with Bombardier for 16 Traxx F140AC electric locos to be delivered by July 2010. They will be used on freight trains to be operated between Borlänge, Luleå and Oxelösund in 2010-19 under a SKr2·5bn with steel sheet and plate producer SSAB.
Sensys Traffic has received orders to supply Norway's Jernbaneverket and Finland's RHK with pantograph monitoring systems.
UK: Three batches of Class 172 Turbostar DMUs being built at Bombardier's Derby plant for train operators London Midland, Chiltern and London Overground are to be equipped with MTU Type 6H1800 engines rated at 360 kW.
USA: On October 16 Railpower Technologies announced the sale of two Eco-Motive low emission locomotives to Modesto & Empire Traction Co following a two-week demonstration.
South Florida commuter operator Tri-Rail is converting eight of its 10 locomotives to run on a 99% biodiesel blend. Either palm or soya oil will be used, depending on availability. South Florida Regional Transportation Authority officials said the mild climate allows such a pure blend of the less polluting biofuels. Although the oils result in a 7% increase in fuel consumption, the cost is approximately $0·08 per litre less than pure diesel and Sfrta believes the environmental benefits outweigh the additional cost.