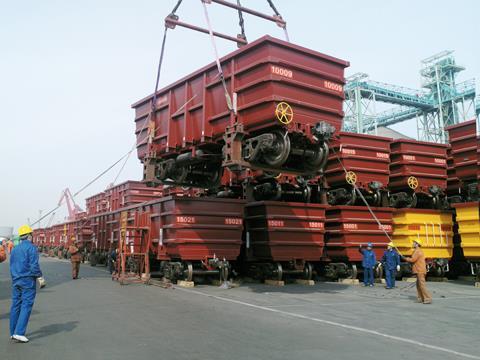 Bangladesh: Using Indian credit, Rites is to supply 10 broad and 16 metre gauge locomotives to BR in 2013.
Belarus: BC has awarded CZ Loko a €20m contract to supply 20 two-axle shunting locomotives. The TME3 will be a 1 520 mm gauge version of CZ Loko's Effishunter, with a 400 kW Caterpillar C15 Acert engine and Siemens alternator. Deliveries were scheduled to start last month and run to 2014. Final assembly is to be undertaken at BC's Lida workshop.
Brazil: CBTU has awarded the Frota BH consortium of Alstom and CAF an R$172m contract to supply 10 four-car 90 km/h EMUs for the Belo Horizonte commuter network. Each 3 kV DC unit will be able to accommodate up to 1300 passengers.
Trensurb of Porto Alegre has awarded the Frota POA consortium of Alstom and CAF an R$243·76m contract to supply 15 four-car EMUs. Deliveries are due to start in 2014 with CAF responsible for supplying bogies.
Randon is developing a prototype five-section articulated double-stack container wagon for MRS Logística. Due to be completed in early 2013, it is expected to be deployed on intermodal services to the port of Santos following the delivery of new Stadler rack locomotives.
Canada: Pickersgill-Kaye is to supply more than 2 000 emergency alarm handles for Rocket metro cars Bombardier is building for Toronto.
Estonia: Tallinn transport authority TLT has selected CAF to supply 15 low-floor trams for Line 4 at a cost of €44·3m, with an option for a further 15. The order is to be funded through the sale of carbon credits.
France: STIF has exercised a €127m option for Alstom to supply 14 more MP05 six-car rubber tyred trainsets for Paris metro Line 14 in 2014-15. They are required for a 5·8 km northern extension to Mairie de Saint-Ouen scheduled to open in 2017.
Germany: DB Netz has ordered five emergency rail cranes from Kirov at a cost of €60m. Tatravagonka will provide bogies and Gföllner the superstructures. The three 160 tonne and two 100 tonne cranes are to be delivered over the next six years to replace existing cranes dating from the 1970s.
Poland: To replace 14WE units, SKM Warszawa has ordered three Newag 35WE six-car EMUs for 100m złoty, an option on a contract for six leased from ING Lease.
Zastal has signed a framework agreement to supply Greenbrier Europe Wagony widnica with wagon components.
Pomorskie voivodship has bought three EN57 EMUs from PR for 5·6m złoty, enabling it to fund their refurbishment.
Russia: A letter of intent for RZD to order 675 electric freight locomotives from the Ural Locomotives joint venture of Sinara and Siemens was signed on November 16. Firm orders are to be agreed and contracts signed no later than 2014, with deliveries expected in 2016-20.
Kazan Metro has ordered three three-car trainsets from Metovagonmash.
South Africa: Transnet Rail Engineering's Germiston plant has delivered 50 tank wagons ordered by Transnet Pipelines to carry fuel to Botswana.
Sudan: CSR Ziyang has won a contract to supply a long-distance DMU with two motor and four trailer cars. Scheduled for delivery in August 2013, the 1067 mm gauge unit will have a capacity of 284 passengers and be suitable for 100 km/h running in a harsh environment.
Sweden: EuroMaint's Notviken workshop is refurbishing 55 coaches for SJ under a project running to early 2014. The contract is an option on a deal for the refurbishment of 160 coaches in 2009-11.
Ukraine: UZ has applied for EBRD financing for a US$125m project to acquire general purpose wagons. Procurement is expected to begin this month.
USA: Massachusetts Bay Transportation Authority has awarded Alstom contracts totalling €170m to modernise 86 LRVs used on Boston's Green Line and refurbish 74 double-deck commuter coaches.