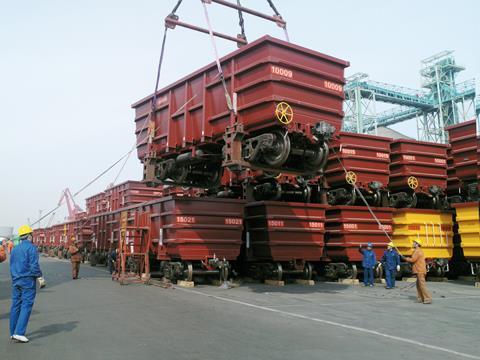 Australia: Last month QR's intermodal business placed a A$70m order with United Group for 12 C44Aci diesel locomotives for delivery from July to December this year.
China: Faiveley has recived a €60m contract to supply Datong Locomotives with 489 sets of braking equipment over three years.
Czech Republic: This year Bona-trans will supply 10 000 wheelsets for Eanos open wagons and Sdggmrss timber and container flats which Tatravagonka Poprad is building for Rail Cargo Austria and operators in Germany.
Europe: SNCF and CFL have placed a €82m order with Alstom and Bombardier for further three-car TER 2N NG Coradia Duplex double-deck EMUs for use on regional express services from June 2010. The final option under a contract for up to 233 trains signed in September 2000, it covers 10 units for CFL and one for use by SNCF in Haute-Normandie, and also incorporates three ordered in August for the Pays de la Loire region.
Finland: Following a formal presentation at Helsinki's main station on December 17, last month the first of 32 Flirt EMUs which Stadler is building for Finland was sent for three weeks of cold weather trials at Rovaniemi, the northernmost electrified route in Finland and close to the Arctic Circle. The EMUs for services in the Helsinki region are designed to operate in temperatures down to -40°C (RG 11.08 p844).
France: On January 5 Electro-Motive Diesel announced the latest version of its Class 66 locomotive had received approval for use on secondary routes usually only available to lighter locomotives. Certification for the Czech and Slovak republics is underway.
Georgia: Interpipe has supplied 5 000 wagon wheels to rolling stock manufacturer Rustavskiy, and 15 000 more will be delivered by April.
Germany: LNVG has placed a €46m order with Bombardier for an additional 34 double-deck coaches for use on Metronom services. The ?Niedersachsen transport authority also ordered 10 two-car Coradia LINT DMUs from Alstom for €28m.
The Federal Rail Authority approved Voith's Maxima locomotive for traffic in December, and the first entered service hauling 25-wagon coal trains to Kiel-Wellingdorf power station on January 6.
Owing to the workload at Siemens' München plant, Arriva Werke Nord in Neustrelitz is to undertake assembly of a number of ER20 locomotives.
Hungary: MÁV has bought eight surplus two-car Siemens Desiro DMUs previously used in Greece.
India: IR's Golden Rock workshop is to supply 20 second-hand diesel locomotives converted from metre to 1 067 mm gauge to Mozambique, and 60 tank wagons to Madagascar.
Italy: On November 22 the 950 mm gauge Circumvesuviana Railway unveiled the first of 26 four-car articulated Metrostar EMUs being supplied by AnsaldoBreda. The Class ETR201 units have three-phase drives rated at 1 020 kW and a top speed of 120 km/h. They can carry 48 seated and 397 standing passengers and have two wheelchair spaces.
Kazakhstan: In December KTZ began taking delivery of 15 CKD6E diesel shunting locomotives independently developed by CSR Ziyang Locomotive Co using experience the manufacturer gained from a batch of locos exported in 2006.
Mozambique: As part of policy of building up export orders, India's Varanasi Diesel Locomotive Works had supplied its first 1 067 mm gauge diesel loco, a 3 000 hp unit with 18·8 tonne axleload for Mozambique.
Myanmar: In December CNR Dalian Locomotive & Rolling Stock Co shipped 20 metre-gauge diesel-electric locomotives to Myanma Railways under a contract placed on May 10 2007.
Poland: The Kujawsko-Pomorskie voivodship has placed a 21m zloty order with PESA for five driving trailers which will be used to lengthen DMUs operated by Arriva PCC between Torun and Bydgoszcz.
Slovakia: Skoda Vagónka is to supply ZSSK with 10 three-car double-deck EMUs based on the CityElefant design developed for Czech Railways. They will be delivered within four years at a cost of €96·1m to replace 1970s stock on services between Trencín, Zilina and Kosice.
South Africa: Sasol Synfuels has awarded DCD-Dorbyl's rolling stock division a contract to modernise a fourth GE UC26 locomotive, which will receive a Brightstar control system and a fuel-saving automatic engine stop-start system.
Transnet Rail Engineering has ordered two 24 tonne diesel-hydraulic locomotives from DCD-Dorbyl for delivery to the Kings Rest and Bay Head yards by November. Lafarge Industries, Richards Bay Minerals and Nampower of Namibia have each ordered 35 tonne Funkey DHK locomotives for delivery this year. Both models have Cummins engines.
UK: WH Davis has received a contract to build 89 HYA coal wagons for VTG Rail, which will lease them to freight operator First GBRf.