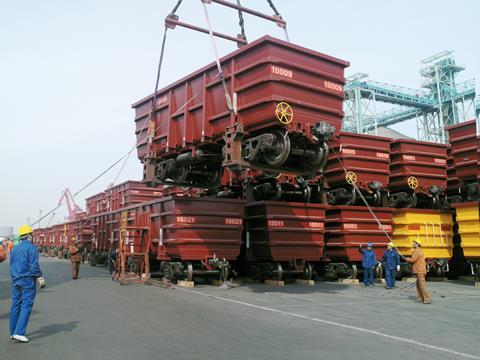 Argentina: ABB has a US$50m contract to supply traction equipment for nine-car EMUs Emfer is producing for TBA's Sarmiento route in Buenos Aires using refurbished Toshiba cars and new double-deckers (RG 4.11 p9).
NREC has delivered two TZV Gredelj G26CWN locos to Ferrosur Roca.
Australia: QUBE is taking delivery of eight US-built NREC E-series locos with refurbished EMD 16-645E3B engines.
Austria: On December 16 Wiener Linien exercised a €60m option for Bombardier/Vossloh Kiepe to supply five T1 trainsets for Wien line U6.
Canada: RJ Corman Railpower is to supply a fourth 2000 hp RP20BD genset loco to the Port of Montréal.
Metrolinx has exercised a C$22m option for six cars to lengthen the two-car DMUs which Sumitomo and Nippon Sharyo are to supply for the future Toronto airport service.
China: Alstom and Shanghai Alstom Transport Electrical Equipment have a €26m contract to supply Optonix traction equipment for 144 cars CSR Sifang is building for the opening of Qingdao metro Line 3 in 2014.
Europe: Eberspächer is to supply exhaust systems for Bombardier's Traxx multi-engine loco family.
GySEV has bought four Class 5147 single-car DMUs from ÖBB for €1·2m.
France: Last month VFLI ordered six Vossloh Euro 4000 diesel locos for delivery from January 2013. 77 Euro 4000s have now been sold.
Under a contract worth €439m, SNC Rames Bail 11 is to provide leasing finance for the acquisition of 16 Bombardier trainsets for TER services by Provence-Alpes-Côte d'Azur region, which will have the option to acquire them under the 34-year contract.
Germany: In December DB Regio placed a €500m order for 90 four-car Bombardier/Alstom Class 430 high capacity EMUs to be used on Netz Kleyer S-Bahn services in the Rhein-Main area from December 2014.
Polish firm Pesa Bydgoszcz has won its first order from Germany, a contract to supply 12 two-car Link DMUs to Netinera subsidiary Regentalbahn for use on Oberpfalzbahn services from late 2014.
Within a 2008 framework, in December DB placed a €34m firm order for a further 18 Bombardier Twindexx Vario double-deck coaches for use on Kreuz Bremen services.
Plauen has placed a €4m order for two Bombardier Flexity Classic trams to be delivered in 2013, with an option for eight more. The 2300 mm wide metre-gauge cars will be similar to vehicles for Dessau and Halle but with improved braking.
On December 21 Essen transport authority EVAG signed a €72m order for 27 Bombardier Flexity Classic trams to be delivered from August 2013.
In December Frankfurt transport authority VGF exercised a €169m option for Bombardier to supply an additional 78 high-floor Flexity Swift LRVs in 2014-17 and a €23m option for 10 more Flexity Classic trams to be delivered this year.
Faiveley has won contracts worth €210m to supply doors, air-conditioning and brakes for the 130 Siemens/Bombardier ICx trainsets ordered by DB.
Finland: VIS of Halberstadt has won a €4·5m contract to modernise a further 10 of Helsinki's NRV1 trams by mid-2013, inserting a low-floor centre section. There are options for 10 more.
Hungary: Budapest operator BKV has bought 10 TW6000 trams from Hannover's Üstra for €35000 each.
Indonesia: PT KAI and Bombardier have signed a MoU which could see the state railway participate in the production of Traxx Asia diesel-electric locos in Surabaya for the domestic and southeast Asian markets. PT KAI is currently procuring 144 locos to replace 40-year-old machines.
PT KAI has put into service six EMD GT38Ace locos as Class CC205.
Italy: To support expansion plans, Genova port rail operator FuoriMuro has ordered two Siemens Vectron locos for delivery in late 2013.
Poland: PKP IC has awarded Pesa a 6·7m złoty contract to rebuild two Type Z1 coaches as 200 km/h Z1A-WR restaurant cars.
PKP LHS has placed a 27·5m złoty order for Newag to supply five Type 16D locos, a 1520 mm gauge version of the 15D based on a remanufactured SM48 (TEM2) (RG 7.10 p19).
Romania: Pesa Bydgoszcz is to supply 12 low-floor type 120Na trams to Cluj-Napoca at a cost of 64m lei each.
Russia: Transmash has signed a deal to supply mining company Kuzbassrazrezugol with 2500 Type 12-3090 coal wagons in 2012, providing a full workload for its Bryansk plant.
Switzerland: Matterhorn Gotthard Bahn has awarded Stadler a SFr106m contract to supply one four-car and six three-car Komet rack EMUs from late 2013, plus four cars to lengthen existing units and 11 low-floor intermediate cars to make older trainsets compliant with accessibility legislation.
UK: Southern has awarded Bombardier a £189m contract to supply an additional 130 Electrostar EMU cars from its Derby plant. The government provided £80m so the order can go ahead.
Wabtec is refurbishing 60 Alstom Class 460 EMU cars to lengthen Class 458 EMUs used by South West Trains. Porterbrook Leasing is investing £42m in the programme.
Uzbekistan: TMH's Kolomna plant has supplied a further four TEP70BS diesel passenger locos to UTY.