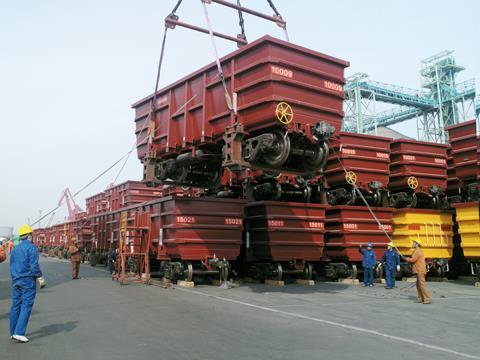 Australia: The state of Victoria has placed a A$200m order for a further 40 Bombardier VLocity DMU cars for delivery in 2014-16, a mix of new units and extra cars to lengthen existing units to three cars for when the Regional Rail Link opens in 2016.
Botswana: BR is taking delivery of 260 bulk salt wagons manufactured by Transnet Rail Engineering of South Africa. BR has ordered a total of 562 wagons from TRE.
Brazil: With R$182m in funding from federal development bank Bndes, VLI Multimodal is acquire 403 hoppers from Randon and 286 wagons from AmstedMaxion, including 176 hoppers and 98 tanks.
AmstedMaxion has supplied 60 tank wagons to Raízen, each with a capacity of 103 m3. They are being deployed on the ALL network to carry ethanol and other petroleum products.
Bom Sinal has been selected to supply 14 four-car diesel light rail vehicles of 766 passenger capacity for the 12·7 km Parangaba - Mucuripe route in Fortaleza (RG 1.11 p54).
China: Hong Kong MTR has awarded Hyundai Rotem a HK$4bn contract to deliver 37 nine-car trains for the North South Corridor of the Shatin to Central Link in 2015-20.
CNR Dalian is to supply MTR with 23 CKD0A diesel works train locomotives under a HK$141m contract.
CNR has supplied vehicles to lengthen Chongqing monorail Line 2 trainsets from four to six cars.
Denmark: Taking advantage of an favourable price, DSB has bought 45 Bombardier double-deck coaches which it previously leased from Railpool, plus an additional vehicle.
DSB and AnsaldoBreda have reached an agreement over the troubled IC4 and IC2 DMU programme; DSB is to get DKr550m in compensation, and will be able to cancel its order for any units not delivered by October 2013.
France: Faiveley Transport has won six contracts totalling more than €7m to supply event recorders for high speed and regional trains in Europe, Australia and South Korea. The company says it has undertaken 'significant research' to develop a single recorder meeting the legal requirements of most European countries.
Germany: Alstom has been awarded a €100m contract to supply 20 Coradia Continental four-car EMUs for Electronetz Niedersachsen Ost services, with an option for 13. Alstom will maintain them for 20 years.
Mozambique: Owing to a shortage of rolling stock at CFM, wagons have been leased from National Railways of Zimbabwe. This has made it possible to run an average of three trains a day on the 317 km Machipanda line linking the port of Beira to Zimbabwe.
Poland: Stadler is to supply 20 two-car Flirt EMUs to ódzka Kolej Aglomeracyjna, the voivodship company which is to take over local services around ód in 2013 (RG 11.12 p12). The SFr180m contract includes 15 years of maintenance following delivery in 2014-15.
Pesa and ZNTK MM have submitted the best offer to refurbish 115 coaches, sleeping and couchette cars for PKP IC at a total cost of 323·3m złoty. Janoza of the Czech Republic has bid to rebuild 35 second class compartment cars as open saloons for 54·3m złoty.
Arriva RP is taking delivery of four SA133 DMUs ordered from Pesa at a cost of €10m for use around Bydgoszcz and Torun.
Under a 3·1m złoty contract, ZPS has supplied Warszawa metro with a LM400.00 shunting and works train locomotive with a Caterpillar engine.
Russia: Yakutia Railways has signed a traction modernisation co-operation agreement with KTZ setting out plans to acquire TE33A Evolution locos.
South Africa: Silentbloc UK has won a contract to supply Transnet with three types of engineered bush components for traction gear systems through its South African distributor Actom Mechanical Equipment.
Switzerland: As arrangers, HSH Nordbank and KfW IPEX-Bank are sharing a €110m six-year tranche of a €290m refinancing programme for 4830 wagons owned by leasing company AAE. A further 10-year tranche is being provided by Pricoa and the Otto Beisheim Foundation.
SBB has ordered Siemens Trainguard 200 onboard computers compatible with ETCS Levels 1 and 2 and the national ZUB 121 train protection system for use on 230 powered vehicles.
Ukraine: EBRD is providing UZ with a loan of up to US$62·5m to finance the purchase of general purpose wagons under its rolling stock renewal programme.
UK: Eversholt Rail has awarded Railcare a £13m two-year contract to undertake C6X overhauls of the 40 Class 365 Networker four-car EMUs used by First Capital Connect.
Bombardier's contract to maintain Virgin Trains' Super Voyager DEMU fleet has been extended to March 2016, at a cost of £106m.
USA: Statoil has appointed The Greenbrier Companies to manage and maintain its fleet of more than 1000 crude oil tank wagons.