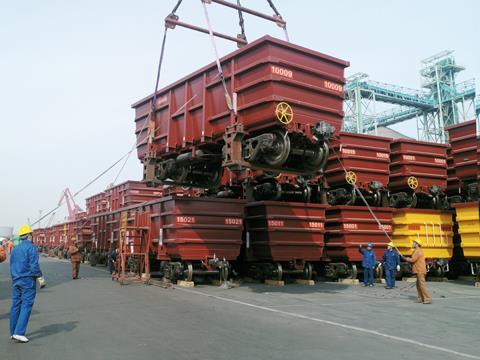 Argentina: Trenes de Buenos Aires has acquired 10 ex-Netherlands Railways Class 3200 two-car DMUs, which will be regauged to 1676 mm for use between Merlo and Lobos on TBA's Sarmiento route and on the Victoria – Capilla del Señor section of the Mitre network.
Australia: WPG Resources has ordered 348 ore wagons from CNR.
Canada: Ansaldo STS has signed a US$16·7m contract to supply MicroCab cab signalling for the 468 Bombardier/Alstom MPM-10 metro cars ordered by STM in Montréal.
China: CNR is to provide 22 six-car metro trains between November this year and September 2012 to increase capacity on Beijing Line 5.
CSR Qingdao Sifang is to supply a further 114 cars for Beijing metro Line 1.
CSR Zhuji has a 1·5bn yuan contract to supply Type B trains for Kunming metro Lines 1 and 2 by November 2013.
Czech Republic: RegioJet has bought 13 used ÖBB coaches for the Praha – Ostrava open access service it now plans to launch in September.
Europe: Alstom is developing a three-axle shunting locomotive able to run at up to 100 km/h, with 1000 kW single-engine and 700 kW twin-engine or battery hybrid options.
Said to be the first wagon contract won by a Chinese manufacturer in western Europe, CNR Jinan announced a deal to supply 20 ammonia and 20 liquefied gas tank wagons to French leasing company Atir-Rail on June 17.
Finland: Voith is to supply pantographs and traction equipment for the 40 trams Transtech is to supply to Helsinki (RG 1.11 p16).
France: With financing arranged by Bank of America, EMD has delivered seven JT42CWRM-100 locomotives to SNCF Geodis subsidiary Akiem, for lease to VFLI for heavy freight service in northern France.
Communauté Urbaine de Bordeaux has selected Alstom to supply 26 more Citadis trams costing €80m for Phase III of the tram expansion programme.
Germany: On June 21 Alstom announced a €325m order to supply DB Regio Rheinland with 56 Coradia Lint 54 and 84 two and three-car DMUs for Dieselnetz Köln services in the Eifel region from December 2013.
India: IR has signed an agreement with Defence Research & Development Organisation for trials of controlled-emission toilets on two trains.
Iran: Wagon Pars has been awarded a 100bn rial order to supply 100 wagons to Jonoob Steel. It is also considering establishing an assembly plant in Syria in partnership with CFS.
New Zealand: KiwiRail has ordered a further 20 CNR Dalian diesel locos for delivery in the second half of 2012, following 20 ordered in 2009 which are now entering service.
Peru: Under contracts potentially worth up US$65m, Spain's FEVE is to supply Andean Railways with refurbished rolling stock for luxury tourist services to Machu Picchu.
Poland: Pol-Mied Trans has awarded Newag a contract to rebuild two SM42 shunters to the 6Dg standard, similar to 120 for PKP Cargo.
Pesa beat Stadler and Newag for a 103m złoty order to supply five four-car Elf EMUs to Koleje Dolnolskie.
Russia: Transmash is to supply eight 81-717.5M and 81-714.5M metro cars to the Yekaterinburg metro.
Voith Turbo Scharfenberg is to provide 110 mm reversible stroke crash buffers for the 200 sleeping cars Siemens and TVZ are supplying to RZD.
Slovakia: Express Rail has leased a Bombardier Traxx 2E multi-voltage locomotive from CB Rail.
Spain: On June 12 RENFE put into service its first Class 114 trainsets on medium-distance high speed services from Madrid to Valladolid and Segovia, replacing Class 121 units and increasing capacity by 20%. A total of 13 Class 114 sets were ordered from Alstom and CAF for €1755m in 2006.
Sweden: Kiruna Wagon is developing an iron ore concentrate wagon for Northland Resources, which from 2013 will take the output of its planned Kaunisvaara mine to Svappavaara by lorry for onward rail transport to Narvik. An order for up to 220 wagons is envisaged.
Switzerland: Frauenfeld-Wil-Bahn has ordered five metre-gauge 1·2 kV DC Stadler EMUs.
UK: Railway Vehicle Engineering Ltd is planning to rebuild a Class 73 electro-diesel locomotive, replacing the 600 hp English Electric engine with a pair of 750 hp Cummins QSK19 engines and NREC controls as a prototype for a fleet of 12 to 14 'go anywhere' locomotives.