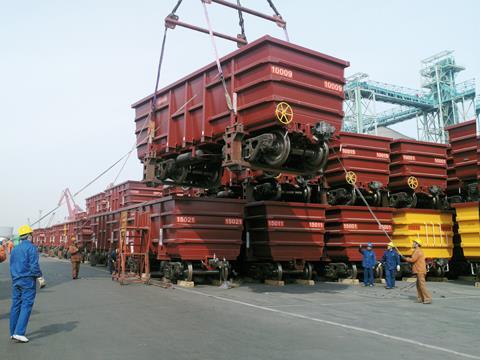 Australia: UGL has won four contracts totalling A$190m to supply 38 locos. Rio Tinto has ordered GE Evolution locos, while C44ACi locomotives will be supplied to QR National, PN Rail, and Xstrata Coal
Brazil: MRS Logística has ordered a prototype articulated double-stack container wagon from AmstedMaxion and a second from Randon. They will be used in trials for a proposed intermodal network linking the port of Santos with inland terminals.
ALL has taken delivery of seven 4400 hp Dash-9 BBW40 locos from GE Transportation of the USA. The remainder of the 16 to be deployed on 1000 mm gauge routes in Paraná are being produced by GE in Brazil.
China: CSR Qingdao Sifang has won a 200m yuan order to provide 20 Type 25T seating, five baggage and five dining cars for Hong Kong – Guangzhou services.
Costa Rica: FEVE of Spain has sold a further six Class 2400 two-car DMUs to Incofer for €4·5m.
Czech Republic: At a cost of Kc630m, Pars Nova Šumperk is to refurbish 40 CD Class 363 electric locos; 20 will be equipped for push-pull operation and 10 converted to Class 362 with a higher top speed.
Europe: Alstom has signed a contract to maintain 17 Prima locomotives operated by Eurotunnel subsidiary Europorte, which will assist with testing Prima II locomotives.
Germany: Solaris has won a €33·1m contract to supply 15 Tramino low-floor cars to Braunschweig in 2014, with an option for three. The 1100 mm gauge unidirectional trams will be 36 m long with 77 seats and a total capacity of 201 passengers.
India: IR has ordered 250 high capacity wagons from Besco. The supplier is developing a wagon factory at Baruipur, and also seeking to enter the Russian bogie and coupler market.
RCF has begun production of 'fire-proof' stainless steel coaches.
GATX has entered the Indian market with the purchase of 450 container flat wagons which will be leased to Arshiya Rail Infrastructure. 'We believe rail wagon leasing in India will provide an attractive growth opportunity' said GATX President Brian A Kenney.
As an experiment in improving passenger comfort, ICF has equipped a Central Railway EMU with rubberised coir padded seats instead of wood in second class.
International: Last month a number of withdrawn Queensland Rail locomotives were shipped to South Africa where they will be refurbished by Transnet Rail Engineering for sale to other African countries.
Italy: Trenord has exercised an €67m option for 10 five-car Alstom Coradia Meridian EMUs. They will have an interior configured for commuter traffic, and are scheduled to enter service by the end of 2013.
Kazakhstan: Having already supplied 50 shunting locomotives to KTZ, CSR Ziyang has signed an agreement to assemble locos at Taraz.
Morocco: Under a US$7m contract with NREC, TZV Gredelj is to supply remanufactured GT26 locomotives to haul heavy freight trains on non-electrified routes.
Netherlands: Hermes has appointed Voith Railservice to maintain the nine Stadler GTW units it will operate on the Arnhem – Doetinchem line from December.
Poland: Pesa was sole bidder for a contract to supply KM with two 214Mb (SA135) single-car DMUs.
PKP IC has awarded contracts for the modernisation of 68 coaches used on the Przemyl – Kraków – Wrocław – Szczecin route. FPS is to modernise 20 second class 141A cars for 54m złoty, Newag 10 second class 111A cars for 24m, Pesa and ZNTK MM 18 first class 140A cars for 46m złoty, 10 second class 111A cars for 22m and 10 first class 112A cars for 31m złoty.
Four DMUs ordered by Arriva for use around Szczecin will be the first to be powered by Voith Turbo's own R2876T3-390 horizontal six-cylinder engine, the second rail-specific engine developed by Voith under a co-operation agreement with MAN.
Zachodniopomorskie has cancelled a deal with Newag for two DMUs, and signed an 24·6m złoty order with Pesa for two-car Link units suitable for cross-border services to Germany. SKM Trójmiastvo has awarded a consortium of Škoda Poland and Tabor Szynowy Opole a €24m contract to modernise 21 Class EN57 EMUs.
Russia: Transmashholding has awarded Faiveley Transport a contract to supply braking system components for 40 Type EP20 locomotives in 2013-14.
Under an agreement with leasing company Brunswick Rail, NCBE is to produce up to 1000 open wagons a year with Amsted Rail 18-9836 bogies from 2013.
Brunswick Rail announced a seven-year agreement to supply petrochemicals group Sibur with 150 type 15-1780 propane and butane tank wagons built by Poltavhimmash
Voith is supplying roof-mounted engine cooling systems with SilentVent fans for 50 DMUs being built by Metrovagonmash with Stadler traction equipment for delivery from 2014.
Sweden: Last month Storstockholms Lokaltrafik placed a €440m order for a further 46 Alstom Coradia Nordic six-car EMUs to be delivered from 2016. SL has now ordered 129 of the units under a 2002 framework agreement.
Taiwan: Taiwan High Speed Rail Corp has ordered an additional four Series 700T 12-car 300 km/h trainsets to be delivered by Kawasaki Heavy Industries and Toshiba between December 2012 and November 2015. The contract includes two options for four more.
USA: Bombardier announced on June 4 that New York MTA had signed the $599m order for 300 R179 metro cars (RG 5.12 p19). They are to be built at Bombardier's plant in Plattsburgh, New York, with Mitrac traction and control systems supplied from Pittsburgh, Pennsylvania. 10 pre-series cars are to be delivered in Q3 2014, with production cars following from mid-2015 to early 2017.
MBTA has awarded Alstom a $104m contract to overhaul 86 Type 7 light rail vehicles used on Boston's Green Line.