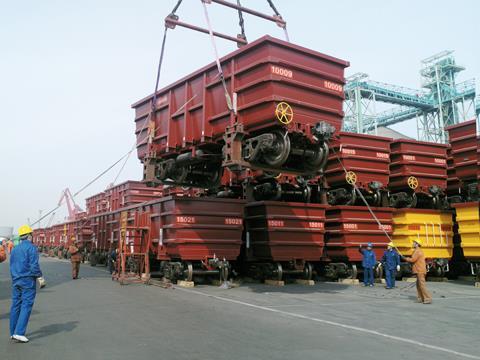 Australia: On January 31 CSR Ziyang signed a contract to supply six AC traction diesel locomotives to Qube by the end of the year.
Austria: ÖBB-Technische Services has awarded Compin a €2·8m contract to supply seats for Talent and Desiro multiple-units.
China: The Ministry of Railways has awarded CSR Nanjing Puzhen contracts to supply coaches worth 1·7bn yuan. CSR Qingdao Sifang has a 500m yuan order to overhaul multiple-unit cars.
CSR subsidiaries have announced orders totalling 1·6bn yuan for the supply of wagons to China Railway Investment Corp, and contracts worth 590m yuan to undertake wagon overhauls.
Czech Republic: CD reports that it put 242 locomotives, coaches and multiple-unit cars worth a total of KC7·7bn into service during 2012.
CD Cargo has signed an 10-year leaseback agreement worth KC800m under which it will sell 10 Class 363.5 dual-voltage electric locomotives to SOB Leasing which will pay for their modernisation.
Kazakhstan: GE Transportation has awarded Skoda Electric a €38m contract to supply drive systems including 475 kW traction motors, wheelsets and gears for the 110 Evolution series TEP33A 160 km/h diesel-electric passenger locomotives ordered by KTZ last September (RG 11.12 p62).
Mozambique: Beacon Hill Resources has leased five Grindrod RL30SCC-3 locomotives and 90 open wagons from South Africa's Thelo for 10 years, and has appointed RRL Grindrod Locomotives to operate coal trains on the Sena line which it plans to start running later this year.
Netherlands: Alstom announced a €42m firm order to supply a further five six-car Metropolis Type M5 trainsets for the Amsterdam metro on February 13. This is an option on a €200m contract for an initial 23 trains signed in February 2010. The additional units are to be delivered from the Katowice plant during the second half of 2014.
Poland: Elblag has bought two M8C trams from Augsburg at a reported cost of around 100 000 złoty each. A further eight may be acquired.
Lotos Kolej began using a Pesa Gama Marathon electric locomotive with a CAT C15 'last mile' diesel engine during January (RG 11.12 p64).
Warszawa has selected Pesa to supply 45 new bidirectional Swing Duo low-floor trams for 380bn złoty. Delivery will start in April 2014. The order may be reduced to 30 trams if EU co-financing is not secured.
Russia: An agreement for the All-Russian Railway Research Institute to assist Talgo with the development of rolling stock for use in Russia was signed in Madrid on February 7, building on a January 2012 agreement. Talgo's passive tilt technology offers the potential for a 'significant increase in speed' on 1 520 mm gauge railways, according to RZD, and its braking and automatic gauge-change systems are to be adapted for winter conditions.
Siemens Desiro RUS EMUs began entering passenger service on January 23, initially on the St Petersburg – Chudovo – Novgorod-na-Volkhov/Bologoye routes.
An MoU to 'explore the possibility of forming a strategic relationship' to modernise diesel-electric locomotives was announced by GE Transportation, Locorail and Yakutia Railways on February 1. GE would supply a minimum of 20 FDL engine kits a year for five years from the USA, and provide training and support for the upgrading of Yakutia Railways' Aldan workshops where locos would be modernised under licence.
The City of Moscow has awarded Ust-Katav Car Plant a 1·1bn rouble contract to supply 67 trams by October 1. The 35% low-floor single-car vehicles will be 16 m long with space for 125 passengers.
Fintrans GL has leased 100 more Armavir Heavy Machinery Plant type 11-1807-01 vans from Brunswick Rail for paper traffic, taking its total to 150.
Last month RZD look delivery of two prototype Sinara TEM14 heavy shunting locomotives. The 200 tonne Do-Do locomotives are powered by pairs of UDMZ DG-880L engines giving a top speed of 100 km/h. A further 52 are due to be delivered by the end of 2014.
Sinara's LTZ plant is building a prototype 8·5 MW GT1h gas turbine loco for delivery to RZD by July 2014.
Turkmenistan: CSR Nanjing Puzhen has won a contract to supply 154 coaches this year. The order comprises hard and soft sleeping cars as well as generator, dining and luggage vehicles.