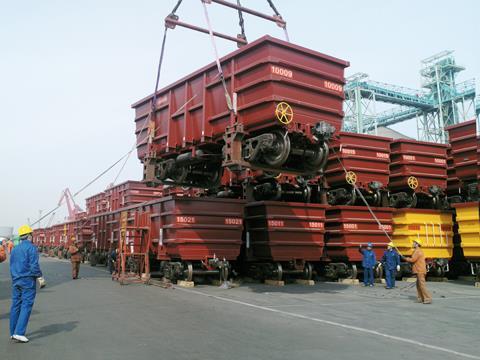 Argentina: Last month 15 ex-NS DH1 single-car DMUs were shipped from the Netherlands to Buenos Aires suburban concessionaire TBA.
Ferrosur Roca has taken delivery of two more EMD G26 locomotives rebuilt by TŽV Gredelj.
Bangladesh: Using Indian government credit, BR has awarded Texmaco a 600m taka contract to supply 81 oil tank wagons and three brake vans.
Bosnia: Elektroprivreda has ordered 40 wagon bogies from TŽV Gredelj for 5m kuna.
Canada: On March 22 CN announced orders for 35 GE Transportation ES44AC and 30 EMD SD70ACe locomotives, its first with AC traction. They are to be delivered in 2013-14 to haul coal on steep and curved routes. CN is also buying 42 second-hand and 11 leased GE Dash 8-40C and 43 second-hand EMD SD60 locos.
China: CNR Corp has announced plans to produce a catenary-free tram for sensitive environments such as tourist destinations and new urban developments.
A Bombardier/New United Group JV has won a 469m yuan contract to supply Mitrac traction equipment for 63 six-car trains which CNR Changchun and CSR Sifang are building for the 47·3 km Beijing metro Line 14 scheduled to open in 2013-14.
CSR Qingdao Sifang announced on March 21 that it had been selected to supply nine 350 km/h eight-car trainsets based on the CRH380A design for the 146 km Express Rail Link which will connect Hong Kong with Shenzhen and Guangzhou.
CNR Xian has supplied Qinghai Zhonghao Natural Gas Chemical Co with 51 methanol tank wagons to a new design which increases capacity from 60 tonnes to 70 tonnes.
Croatia: EMD has ordered 88 locomotive bogie frames from TŽV Gredelj, the first contract under a joint development agreement.
Europe: Transmashholding and CZ Loko are to supply 16 TEM18-derived TEM-TMH shunters with Caterpillar engines to Lithuanian Railways and the Estonian port of Sillamäe by early 2013. Final assembly will be undertaken at Vilnius locomotive depot.
France: Bombardier has been awarded a €238m contract to supply six more Flexity Outlook 1 trams to Marseille, and provide support services for the existing fleet of 26.
Germany: On April 3 DB Regio announced firm orders for EMUs within existing frameworks. Stadler will supply 14 four-section Flirts for Münster - Mönchengladbach service RE42 at a cost of €75m, while Alstom has a €140m contract to supply 28 three-section Coradia Continental units for Rhein-Ruhr routes S5 and S8.
On March 30 DB announced a €160m order for 16 four-car Bombardier Twindexx double-deck EMUs within a 2008 framework. They will be deployed on services from Hamburg to Kiel and Flensburg from 2014.
India: Integral Coach Factory manufactured 1511 coaches in 2011-12, ahead of the target of 1503. The 2012-13 target is 1525.
Iraq: China Northern is to supply CW-1B bogie spares to IRR.
Kazakhstan: This month KTZ is due to take delivery of 42 coaches ordered from Kriukov Car Building Works in Ukraine.
Montenegro: TZV Gredelj is to refurbish two EMUs and repair 11 coaches at a total cost of 15m kuna.
Nigeria: Having imported 20 Type N30m tank wagons from China, NTC is proposing to order 50 more to support plans by oil firms to transfer fuel movements from road to rail.
Poland: TS Opole and Skoda Transportation are to modernise 21 EN57 EMUs for SKM Trójmiescie under a 129m złoty contract.
PR has awarded Pesa a 18m złoty contract to refurbish 10 Type 111A coaches for RegioEkspres services.
Russia: TMH's Bryansk plant has completed a prototype TEM18V shunter with an 882 kW Wärtsilä engine which is expected to be 30% more efficient than a ChME3. The main fan wheel is made of plastic, and Gulfstream preheating is fitted.
Sinara is to supply 12 single-unit Bo+Bo-Bo+Bo TE8 SuperSkid locomotives with 2·2 MW GE engines to Yakutia Railways in 2014-17.
Spain: Under a €9·5m contract CAF is to modify four Urbos 2 trams for use on the Sevilla metro, including installation of ATO and ATP. The trams operated the surface route until their replacement last year by cars equipped for catenary-free operation.
Switzerland: To cope with an anticipated doubling of traffic following the opening of the Gotthard and Ceneri base tunnels, SBB has called tenders for 29 non-tilting 249 km/h trainsets estimated to cost more than SFr800m.
USA: On March 28 New York MTA selected lowest bidder Bombardier for a contract to supply 300 metro cars. Bombardier's bid of $600m beat a rival offer from an Alstom/Kawasaki Heavy Industries. The R179 cars are to built at Bombardier's Plattsburgh factory in New York State to replace R32 cars on the C Line from late 2016.
CNR Yongji delivered an initial batch of 110 traction motors for the US market in March.