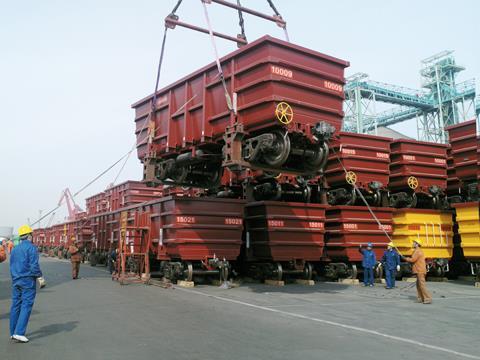 Bulgaria: Tüvasas has won a €32m contract to supply BDZ with 30 sleeping cars within 18 months.
Croatia: TZV Gredelj has signed a €6m contract to supply IRS with 600 Y25 bogies by the end of May 2009.
Germany: The city of München has placed a €29m contract with Stadler Pankow for a further 10 Variobahn trams to be delivered by 2011.
VIAS signed a €70m order with Stadler for 19 Flirts at InnoTrans. To be used on Frankfurt – Koblenz services from December 2010, they bring the total number of Flirts ordered to 514.
Veolia has awarded Alstom a €150m contract to supply 36 three and five- car regional trains for Bremen Regio-S-Bahn services (RG 10.08 p766).
South Korea: Nexans has announced a €3m order to supply Hyundai Rotem with specialised power and control cables for 300 metro cars which will be delivered to Seoul metro Line 3 from 2009.
Lithuania:Skoda Transportation has delivered two three-car EJ 575 double-deck electric multiple-units to LG, which will use them on Vilnius - Kaunas services. The €30m contract is Skoda's first export order for the CityElefant design, which was developed for Czech Railways.
Netherlands: Alstom signed a €5·5m contract at InnoTrans to supply Rotterdam Rail Feeding with three ?refurbished Class 203 diesel locos.
New Zealand: China Northern's Qiqihar plant has delivered 100 container flat wagons. Fitted with 1 067 mm gauge ZK1 bogies, they can carry three 20ft containers.
Norway: On September 24 Oslo Vognselskap and Siemens signed a €110m contract for the delivery of a further 20 three-car metro trains by 2010, exercising a second option on a 2003 order for 33 trainsets.
Poland: By the October 2 deadline CAF, Alstom Konstal, Ansaldobreda and Newag, Siemens, Bombardier and PESA, and Talgo had expressed interest in supplying 20 250 km/h EMUs to PKP Intercity.
Russia: HSH Nordbank, SMBC and ING have agreed a US$90m loan to Transgarant to fund the acquisition of 1 200 wagons.
South Africa: The first of 110 Class 19E dual-voltage 3 kV/25 kV ?locos being supplied to Transnet Freight Rail has entered service.
Sri Lanka: On September 14 Transport Minister Dullas Alahapperuma took delivery of the first three of 15 CSR Sifang S10 DMUs which are being imported for Colombo suburban services using a US$40m loan from the Chinese government.
Tanzania: China Northern's Xi'an works has supplied 50 light oil tank wagons with a 50m3 capacity to Tazara.
UK: Last month London Midland took delivery of the first of 37 Class 350/2 Siemens Desiro 25 kV EMUs leased from Porterbrook. Four units will be fitted with energy meters.
USA: Union Pacific has ordered two RP20CD Eco-Motive 2 000 hp shunting locomotives from Railpower Technologies.
Canadian National has ordered 232 pelletised iron ore wagons to replace vehicles used in the upper Midwest, and is to refurbish 500 more.
Union Pacific has signed an agreement with Progress Rail Services to test five SD40-2 locomotives remanufactured with Caterpillar 3516 engines of 3 000 hp meeting Tier 2 emissions standards.