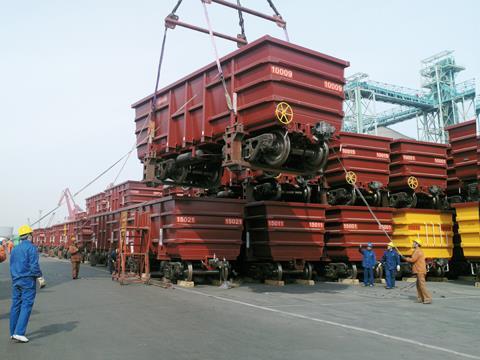 Bosnia: On September 30 ZRS signed an €32m agreement with Talgo for the delivery of four tilting trainsets within two years. They will be maintained at the Rajlovac depot of ZFBH, which is expecting to receive the first of nine Talgos on order by March 2010.
Canada: On October 21 Canadian National announced orders for 35 GE Transportation ES44DC locomotives and 35 EMD SD70M-2 locos. They will be equipped for distributed power operation to enable the operation of longer and more efficient trains.
China: Hangzhou Metro signed a 1·8bn yuan contract with CSR Nanjing Puzhen on September 27 for 48 six-car trains to work its first line. Delivery is expected to start in May 2011 and be completed by August 2013.
Rolling stock manufacturer Sifang has selected London-based design group Priestmangoode to design the interiors and exteriors of 140 high speed trains ordered by the Ministry of Railways. Eight designs have been produced for 12 m long noses.
Czech Republic: Skoda Transportation's Pars Nova Sumperk subsidiary is converting CD Cargo's 30 Class 163 3 kV DC electric locos into Class 363.2 dual-voltage locos, including uprating to 4000 kW and modification for use in Slovakia, Hungary and Croatia. The Kc1·8bn project will be completed by mid-2013.
CZ Loko has launched the Class 719.7 as an update of its Effishunter model (RG 11.04 p744). The two-axle locomotive has Pragoimex asynchronous traction motors powered by a Caterpillar C15 Acert engine rated at 403 kW and a Siemens alternator. It weighs 42 tonnes and has a top speed of 80 km/h.

France: Compin Group is to supply interior fittings and 42000 seats for the refurbishment of TGV Sud Est trainsets. The contract worth up to €100m includes complete kits for 60 trains with options for 47. Compin and RCP Design created 'a style that fits the TGV brand image'.
Georgia: China South Nanjing has begun delivering one eight-car and a pair of two-car 3 kV EMUs ordered in August 2007 for services to Tbilisi international airport. Final assembly will undertaken locally by Electrical Car Repair Works.
Germany: Magdeburg transport operator MVB has ordered a further 11 NGT8D low-floor trams from a consortium of Alstom and Bombardier at a cost of €31·8m.
Funded by a banking consortium led by KfW IPEX-Bank, Benex has placed a €60m order for 38 Stadler Regio-Shuttle railcars to operate Oberfranken services from June 2011.
DB has placed further orders for Bombardier Talent 2 EMUs under a framework for up to 321 sets. A €35m order covers four three-car and four five-car Class 442s to be operated by DB Regio Südost from 2011, while a €90m order covers six three-car and 16 four-car units for Mittelhessen-Express from December 2011.
Hungary: Pesa submitted the lowest tender to supply nine low-floor trams to Szeged, the €16m offer undercutting Inekon's €20·6m bid.
Iran: CNR is to supply six 100 km/h diesel locomotives with Chinese-made 16V240ZJD1 engines rated at 2940 kW within six months.
Italy: Under a €2bn regional investment plan Trenitalia has placed a €258m order for an additional 100 Bombardier Class E464 electric locomotives to be delivered in 2010-12, with options for 50. Trenitalia has previously ordered 638 of the push-pull locos. Arenaways has ordered three ATR220 DMUs from Pesa for planned Torino – Milano open-access services.
Trenitalia has awarded Ansaldo STS and Alstom a €25m contract to maintain ETCS Level 2 equipment on 32 ETR500 high speed trains, with leader Ansaldo STS's share worth €12m.
South Korea: Hyundai Rotem rolled out the first of 50 driverless light metro cars for the 24 km Busan – Gimhae line on October 15.
Malaysia: KTMB is to buy four Class 2400 two-car DMUs from FEVE of Spain to boost capacity on Klang Valley routes before later deployment on the east coast.
Poland: The Lotos Kolej transport subsidiary of oil and gas group Lotos signed a €18·6m order for six Bombardier 2400 kW diesel-electric freight locomotives on October 14. Deliveries start in mid-2011, and the contract includes an option for a further four.