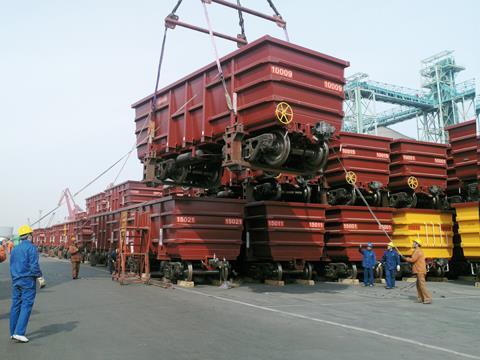 Bangladesh: Last month BR took delivery of five Hyundai locomotives; an order for 11 more is anticipated.
Bosnia: Pragoimex has won a KC6·3m contract to supply electrical equipment for the modernisation of Tatra KT8D5 trams in Sarajevo.
Brazil: Vale has taken delivery of two prototype ore cars with 37·5 tonne axleloads developed by CNR and assembled by local partner Oyamota as part of its programme to increase capacity on the Carajás Railway.
Bulgaria: BDZ has awarded the Levski rolling stock plant a 6·6m leva contract to overhaul 38 coaches as part of a programme to modernise 186 vehicles.
Cameroon: CSR Nanjing Puzhen is to supply 38 metre-gauge coaches including sleeping, dining and baggage cars. CSR said it is prioritising the African passenger market, having now won three orders and recently hosting delegates from 25 countries.
Canada: Alstom is to supply six Coradia Lint DMUs for the Ottawa O-Train in May 2013. The C$34m contract is part of a C$59m programme to increase capacity on the 8 km line which includes two passing loops and signalling upgrades. The three Bombardier Talent DMUs could be sold.
China: Shenhua International Trade Co has ordered 35 coaches from CSR Nanjing Puzhen, including 20 Type 25G sleeping and nine dining cars.
Czech Republic: CD has awarded ZOS Trnava a KC1·5bn contract to modernise 64 second-class coaches for IC and EC services.
On September 30 CD signed a €200m deal to acquire 16 Siemens Viaggio Comfort push-pull trainsets in 2012-14 using an option on ÖBB's original Railjet contract which was no longer required. The deal had been delayed by three months following a legal challenge from Skoda Transportation.
Gabon: In September CSR Yangtze delivered a first batch of 44 ore wagons to Huazhou Mining Gabon Co.
Germany: Faiveley Transport has won a 'major order' from Siemens and Bombardier to supply bogie and brake equipment for DB's ICx fleet, including magnetic track brakes, oil-free compressors and electro-pneumatic brake controls.
Hungary: On October 11 CAF signed a €38m contract to supply 18 trams to Debrecen from July 2013. CAF was originally selected in early 2010, but losing bidders Ganz-Skoda, Solaris and AnsaldoBreda mounted a legal challenge (RG 4.10 p16).
India: The first RCF double-deck hauled stock to have air-conditioning was launched at Howrah station on October 1. Top speed is 110 km/h, and the vehicles are limited to routes modified to provide adequate clearance.
International: A five-year agreement has been signed for Infineon Technologies to supply Bombardier with power semiconductors for traction systems. Infineon will reserve manufacturing capacity and Bombardier will contribute towards the required investment.
Kazakhstan: On September 30 the US Export-Import Bank approved a US$425m loan to enable KTZ to purchase 196 locally-assembled GE Transportation Evolution locomotives as the second tranche of an order for a total of 310 signed in 2006.
Netherlands: Voith Railservices has won a contract to maintain the Utrecht sneltram fleet until 2019 at an annual cost of €2·7m.
Poland: Pesa plans to unveil the 111E modular electric locomotive at InnoTrans 2012. The 5600 kW Bo-Bo for 3 kV DC will weigh 80 tonnes and have a top speed of 190 km/h.
ZNLE has signed a firm order to supply freight operator STK Wroclaw with four E6ACT Dragon electric locomotives (RG 11.10 p75); the prototype is now on test with Lotos Kolej.
Romania: On September 22 Bucuresti metro operator Metrorex selected CAF for a €97m contract to supply 16 six-car trainsets from 2012 to replace IVA Astra rolling stock on Line 3. Final assembly will be undertaken locally, and there is an option for eight more. Metrorex plans to acquire a further 21 trainsets for the future Line 5.
UK: An option has been exercised for Manchester Metrolink to take delivery of 12 more Bombardier M5000 trams in 2013-14 to enable the retirement of the original T68 cars.
VTG has awarded RailCare a five-year contract to maintain its tank wagon fleet, taking a 'proactive approach to managing wagon availability' based on the passenger sector.
USA: CAF has been awarded a $153·1m contract to supply 39 light rail vehicles to Houston Metro, a year after a previous contract for 29 cars with options for up to 103 (RG 4.09 p17) fell foul of Buy America rules because the two prototype cars were to have been built in Spain.