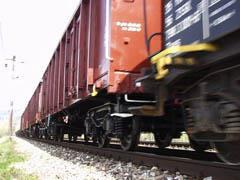 Australia: Refurbishment of the 60-car CountryLink XPT fleet has been completed. This included modernising the seats, fitting new toilets and carpets, upgrading the air-conditioning and installing new equipment in the buffet cars. Stage two of the A$42m upgrade is the overhaul of the 19 XPT power cars, due for completion in 2011.
A A$27m refurbishment of the 23 CountryLink Xplorer and 28 CityRail Endeavour DMU cars has also begun. They will gain new seats, curtains and carpets, while the toilets will be refurbished and luggage capacity increased.
Austria: Rail Cargo Austria subsidiary Industriewaggon has awarded Tatravagonka a €34·8m contract to supply ÖBB with 40 type Eanos open wagons.
Belgium: Alstom is to supply SNCB with a further 956 sets of TBL1+ onboard train protection equipment. The contract follows an order for 866 sets placed in 2007, and includes a 10-year maintenance agreement bringing the total value to €27·4m.
Croatia: TZV Gredelj has modernised two Ganz Class 641 diesel locomotives for use by Italian firm Salcef during the modernisation of HZ's Vinkovci – Tovarnik line.
France: Faiveley is to supply 155 compressor units worth a total of €10m for use on TGV Paris-Sud Est trainsets.
Semitan of Nantes has awarded Electronavale a €2m contract to replace chopper-based traction equipment on 46 Alstom LRVs. The acquisition of between 12 and 35 additional vehicles is planned for 2011-21.
Japan: Kawasaki is to develop a 350 km/h trainets intended to compete with European manufacturers in the high speed export market. Basic design of the Environmentally Friendly Super Express Train (efSET) is to be completed by March 2009, with engineering verification by March 2010.
Namibia: TransNamib has completed work on the first of the 23 of its 45 General Electric U20C locos which are to be refurbished. Fuel efficiency of the 40-year old locos is being improved, and their life extended by 15 to 20 years.
Netherlands: To permit the operation of a 20 min frequency service on the Leeuwarden – Sneek route, ?Arriva has ordered an additional GTW 2/6 DMU from Stadler. ProRail will complete €6m of infrastructure works by the end of next year.
Pakistan: The Ministry of Railways has selected Chinese manufacturer Dongfang to supply a total of 75 diesel locomotives of 1 500, 2 000 and ?3 000 hp. 50 will be delivered in kit form for assembly at Risalpur.
Poland: Newag has rebuilt a XB second class car as a 155A compartment and bar car, one of four prototypes commissioned by PKP Intercity (RG 8.08 p505).
The Zmigród test circuit near Wroclaw is being used for trials of the prototype 19WE four-car 3 kV DC electric multiple-unit developed by Newag as the successor to its 14WE design. As well as a revised external appearance, changes include 70RSNa and 70RST air suspension bogies giving a top speed of 160 km/h, and the placing of the powered bogies at the ends rather than middle of the unit.
Mazowsze regional operator KM has taken delivery of 26 double-deck cars built by Bombardier; 11 driving vehicles for push pull operation will arrive next month.
Spain: FGV has awarded Vossloh España a €128·4m contract to supply 22 Series 4300 trainsets. The four-car units are to be deployed on the extension of Line 1 in Valencia.
FEVE has awarded CAF and bodybuilder Sunsundegui a €43m contract to supply 12 diesel multiple-units over a period of 26 months. The units will be powered by 390 kW MTU engines for a maximum speed of 120 km/h.
Switzerland: SBB has exercised options worth SFr418·6m for a further 32 Stadler Flirt trainsets to be deployed in Vaud, Ticino and Basel from 2010.
On September 2 Siemens and Bombardier confirmed they had received the €189m order to supply 121 double-deck coaches for Zürich (RG 8.08 p471). Siemens' €122m share includes production of the car bodies in Wien.
At a total cost of SFr81·8m, BLS has exercised an option with Alstom and Bombardier for a further eight four-car EMUs and is to lengthen six two-section Stadler GTW units to three cars.
Turkey: AnsaldoBreda and Alarko won a €106m contract to supply 16 Sirio trams to Samsun, where a 17 km tramway with 22 stops is expected to open in 2011.
UK: On September 19 leasing company Angel Trains announced it had signed the contract with Alstom for the production of four 11-car Class 390 Pendolino trains for West Coast services, and 62 cars to lengthen 31 existing trainsets (RG 6.08 p343).
USA: GrandLuxe Rail Journeys has appointed Libra Securities to sell its 31 luxury passenger cars dating from the 1940s and 1950s. The US company ceased operating cruise train holidays during August.
Interfleet Technology has signed a $2m contract to assist NJ Transit in the overhaul of 20 ABB Class O and E ALP-44 electric locos. Raul BV Bravo will also provide support.
Norfolk Southern has ordered 24 GE ES44AC locomotives, which will be its first new locos with AC traction; 17 EMD SD80MAC locos were absorbed from Conrail in 1999.