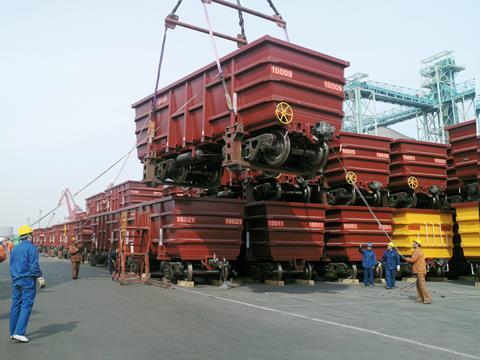 Australia: UGL has won orders totalling A$88m to supply seven C44ACi locomotives to 'a leading resources company in the Hunter Valley region' and 13 GE Evolution locos for Rio Tinto's Pilbara iron ore operations.
China: CSR subsidiaries have signed contracts to supply China Railway Investment Corp with wagons worth 2·21bn yuan.
Wuhan Metro Group has awarded CSR Zhuzhou a 400m yuan contract to provide metro cars for Phase 1 of Line 4.
Skoda Electric has won a KC500m contract is to supply traction packages for 23 five-car 1·5 kV DC metro trains for Suzhou.
Congo: RRL Grindrod has supplied four 1067mm gauge diesel locomotives with EMD 645-E3B engines to Chemin de Fer Congo-Océan.
Croatia: TZV Gredelj has secured foreign investment enabling it produce a prototype DEL 800 shunting locomotive, which it expects to roll out in February.
Denmark: On September 15 Ansaldo STS said the Ministry of Transport had instructed it to go ahead with awarding AnsaldoBreda a €122m contract to supply metro trains for the Cityringen project in København.
Europe: GySEV has bought seven Class 5047 single-car DMUs from ÖBB for €3·3m.
Georgia: GR and Ukrainian Railways have agreed to exchange 1000 open wagons for tank wagons which GR will use to carry oil products.
CSR is to supply five four-car 2M2T EMUs to GR by September 2012.
Germany: Strausberger Eisenbahn has ordered two bidirectional Bombardier Flexity trams for its 6 km line on the outskirts of Berlin.
India: On September 5 Bombardier announced that Delhi Metro Rail Corp had taken up a €84m option for a further 76 Movia metro cars for delivery from late 2012, bringing DMRC's total order to 614 cars of which 460 are now in service.
Chennai-based MARG has entered the wagon fabrication market with a Rs377m contract to assemble 247 tank wagons for Braithwaite & Co.
Iran: CSR Nanjing Puzhen announced its largest ever metro car export contract in August, an order from Iranian Rail Transportation Co worth 2·54bn yuan.
Mongolia: TMH's Lugansk works has delivered 35 2TE116UM twin-section freight locomotives with Koloma 18-9DG-01 engines to Ulaanbaatar Railway under a contract signed in October 2010.
Russia: With finance from VTB Leasing, Mecheltrans Vostok has ordered 16 Sinara TEM8 locomotives, a development of the TEM7A with a GE Transportation 2200 kW engine. They will be delivered in 2012-14 to operate a 315 km railway Mechel has built to link its Elga mines with the Baikal-Amur line.
Last month TMH's Demikhovsky plant delivered 12 cars to lengthen E4MKM electric multiple-units used on Aeroexpress services in Moscow.
Sierra Leone: RRL of South Africa is supplying 20 locomotives with EMD 645 E3B engines to African Minerals, and NREC has supplied four GT26 locomotives built by TZV Gredelj under a US$7m contract. CSR Yangtze is supplying 456 iron ore hoppers.
Spain: RENFE has awarded Alstom a €35m contract to modify 10 of its Class 100 high speed trainsets for operation into France, including under 15 kV DC electrification. All 24 are to be reconfigured with two classes of accommodation in place of three.
Sweden: Czech firms Cegelec Praha and Ekova Electric are to modernise 79 Göteborg M31 trams by 2016 under a KC170m contract. It is the first large export order for Ekova Electric, set up in January as a production and maintenance subsidiary of Ostrava transport authority DPO.
Turkmenistan: In August CSR Ziyang won a 580m yuan order to supply TPK with a further 20 freight and 40 shunting locos; CSR has previously supplied 239 locos of three types in four batches, which now haul all passenger and 70% of freight trains.
Last month CSR completed delivery of 217 coaches of 25 types, including sleeping, baggage and generator cars.
UAE: Etihad Rail has awarded CSR a contract to supply 240 wagons to carry granulated sulphur from Shah and Habshan for export through Ruwais.
UK: Siemens and leasing company Angel Trains are preferred bidders to supply 'around 10' Class 350 four-car Desiro EMUs for use by First TransPennine Express from late 2013 and eight for London Midland.
USA: On September 8 MotivePower announced contracts totalling $30m to supply three commuter locomotives to Sound Transit in Seattle and seven remanufactured locos for Florida's SunRail, which has an option for 13 more.