With Eurostar celebrating its first high speed run between Paris and London's St Pancras station on September 4, the latest biennial World Speed Survey published in the September 2007 issue of Railway Gazette International confirms that construction of new high speed lines is helping to make inter-city rail travel more attractive around the world.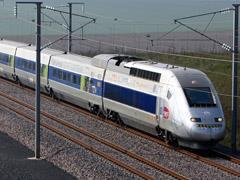 The world's fastest trains
Compiled by Dr Colin Taylor, retired Professor of Geography at the University of Brisbane, and UK performance analyst John Heaton, the World Speed Survey 2007 looks at the fastest timetabled station-to-station journey times between different city pairs in each country where average speeds exceed 150 km/h.
The opening of two high speed lines this year has allowed the world's fastest passenger trains to run significantly faster, compared to the best performance recorded in the 2005 World Speed Survey. 'New lines, dedicated to high speed trains, are increasingly showing the way to go', writes Dr Taylor, adding that 'tilting trains on existing tracks have played their part in terms of shorter journey times … but the greatest improvements are being achieved on lines designed exclusively for high speed travel'.
France's Ligne à Grande Vitesse Est Européenne between Paris and Strasbourg is the first railway in the world where trains can run at a maximum speed of 320 km/h (199 mile/h). This has helped to lift the record for the fastest scheduled rail journey to 279.4 km/h, compared with a best of 263.3 km/h two years ago. Making full use of the higher speeds, a French TGV trainset covers the 167.6 km between the new stations at Lorraine TGV and Champagne-Ardennes TGV in just 36 min.
Using Japanese-built bullet trains, the new high speed line between Taipei and Kaohsiung has made Taiwan the seventh country in the world where trains are running at a maximum of 300 km/h (186 mile/h). It brings the island into third place in the table behind Japan itself, which has held first or second place in the table since the magazine launched its speed survey more than 30 years ago.
Eurostar already operates the fastest trains in Britain, with a service from Ashford to Marne-la-Vallée (the station for Disneyland Paris), taking fourth place in the survey's International category at an average speed of 218.1 km/h. The opening of Section 2 of the Channel Tunnel Rail Link on November 14 will allow Eurostar to introduce a 2 h 15 min timing from St Pancras to Paris Nord at an average of 218.8 km/h. But this will be bettered by five trains timetabled to cover the 456.5 km between Ebbsfleet International and Paris in 2 h 5 min at an average speed of 219.1 km/h.
But the UK's best domestic performance is a 173.3 km/h run from London King's Cross to York in 1 h 45 min, dropping the country to ninth place in the world rankings, compared with second place 30 years ago. John Heaton warns that 'it remains to be seen' how many prestige headline timings 'will survive the re-franchising of the East Coast inter-city business and the growing focus on maximising capacity rather than speed'.
In its white paper Delivering a Sustainable Railway, the UK government has ruled out the construction of dedicated high speed lines for the foreseeable future, suggesting that focusing on the removal of bottlenecks would release sufficient capacity on Network Rail's increasingly congested conventional network to cope with projected increases in traffic. But this policy takes no account of high speed rail's ability to replace short and medium-distance air travel, which is being effectively demonstrated in more and more countries.
The fastest trains in each country - from Railway Gazette's World Speed Survey 2007
Country
From
To
Distance,
km
Time,
min
Speed
km/h
1
France
Lorraine TGV
Champagne TGV
167.6
36
279.3
2
Japan
Okayama
Hiroshima
144.9
34
255.7
3
Taiwan
Taichung
Zuoying
179.5
44
244.7
4
International
Brussels Midi
Valence TGV
831.7
204
244.6
5
Germany
Frankfurt Airport
Siegburg/Bonn
144
37
233.5
6
Spain
Madrid Atocha
Zaragoza Delicias
307.2
81
227.6
7
China
Shenyang Bei
Qinhuangdao
404
123
197.1
8
S Korea
Seoul Yongsan
Seodaejeon
161
50
193.2
9
UK
London King's Cross
York
303.2
105
173.3
10
Sweden
Alvesta
Hässleholm
98
34
172.9
11
Italy
Rome Termini
Florence SMN
261
92
170.3
12
USA
Baltimore
Wilmington
110.1
41
161.1
13
Finland
Tikkurila
Tampere
177
67
158.5
14
Austria
St Pölten
Linz Hbf
122.7
48
153.4
15
Norway
Lillestrøm
Gardermoen
30.2
12
151.2