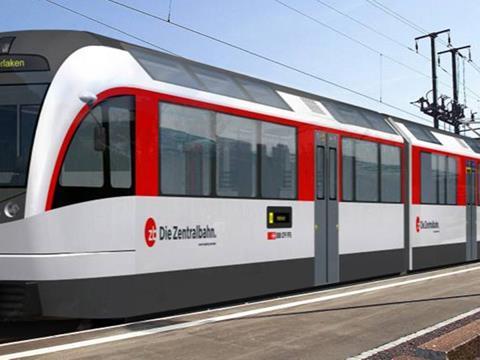 SWITZERLAND: Metre-gauge operator Zentralbahn has awarded Stadler a SFr141m contract to supply 10 inter-regional electric multiple-units as part of a double-tracking and modernisation programme which will see the timetable recast in December 2013.
Six three-car trains will be used on Brünig services. These will be 54 m long with 143 seats, 18 in first class.
Four seven-car trains will be used on services between Luzern and Interlaken Ost. These will be 126 m long, with 301 seats including 80 in first class. They will be based on two three-car units back-to-back, with cabs at the outer ends only and a centre car containing a bistro offering hot and cold food.
The 120 km/h units will be equipped for rack operation on the steepest sections of the routes. They will have panoramic windows, and space for bicycles and skis.
The contract was signed on September 17. Testing of the first EMU is scheduled for January 2012, with deliveries running from September 2012 to July 2013. They will be in full service from December 2013, allowing the replacement of stock dating back 40 years.