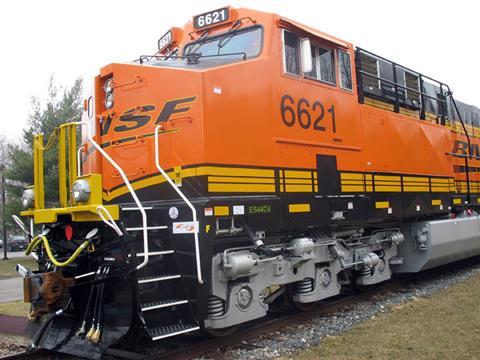 USA: BNSF Railway announced a 2017 capital expenditure plan worth $3·4bn on January 19.
As with 2016's $3·9bn capital plan, the largest element of the programme is the replacement and maintenance of infrastructure on the 52 000 route-km network in 28 US states and three Canadian provinces. This has been allocated $2·4bn, and will include approximately 30 000 km of track surfacing and/or undercutting, and the replacement of about 1 000 km of rail and nearly three million sleepers.
BNSF has allocated $400m for expansion projects, $100m for the implementation of Positive Train Control and $400m for the acquisition of locomotives, wagons and other equipment.
'Each year we establish a capital plan that reflects the future needs of our customers and the constant need to keep our infrastructure in good working condition', said President & CEO Carl Ice. 'This year's capital plan ensures we continue to operate a safe and reliable rail network while capturing the new opportunities our customers will present to us. Our ongoing investments, along with the outstanding efforts of our employees, resulted in the lowest number of derailments in company history last year. The strength and condition of our railroad today gives us the confidence that we will operate safely in the communities we serve and meet our customers' expectations of reliable and consistent service.'