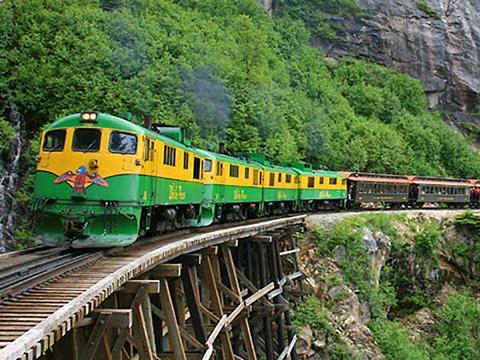 NORTH AMERICA: Cruise holiday company Carnival Corp has agreed to acquire the White Pass & Yukon Route railway, port and retail operations from Canadian golf club company TWC Enterprises Ltd for US$290m.
Built during the Klondike Gold Rush of 1898, closed in 1982 and revived in 1988 as a tourist service, the 914 mm gauge Class II White Pass & Yukon railway runs 110 km from Skagway, Alaska, through British Columbia to Carcross, Yukon.
The transaction announced on June 6 is expected to close on July 31, subject to regulatory approval. Brookfield Financial Securities acted as advisor to TWC.
Carnival subsidiary Holland America Princess Alaska Tours has also signed a memorandum of understanding for the formation of a joint venture with Survey Point Holdings, railway terminal operator Rail Management Services and port operating group P3 which would manage the newly acquired activities.
'This asset represents a one-of-a-kind experience and is an iconic name in the Alaskan cruise industry', said TWC Enterprises Chairman & CEO Rai Sahi. 'Carnival already has a strong presence in Alaska with its multiple brands and White Pass represents a very strategic acquisition for them. I feel that this historic asset will be a great fit for Carnival.'