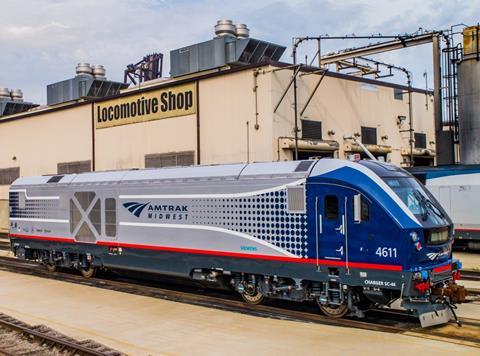 USA: Dedicated funding for two new inter-city rail services and urban rail expansion is included in a $45bn package of infrastructure investment approved by the Illinois state legislature on May 31.
The six-year programme put together by Governor J B Pritzker allocates $33·2bn for transport projects. The majority of this is expected to patch up the state's crumbling road network, but the bill also sets up a dedicated fund to support public transport including Amtrak operations and Chicago's Metra commuter rail network. Funding will be provided from a number of sources, including a doubling of the state's gasoline tax, which was last increased around 30 years ago.
The legislature has appropriated $500m to launch two Amtrak services which have been under discussion for a number of years. One will run southwest from Chicago to the Quad Cities, where a new passenger station has already been built at Moline, and the other will run northwest to Rockford, with a later extension to Dubuque envisaged. Rolling stock for this is likely to be sourced as an add-on to the multi-state procurements of Siemens Charger locomotives and single-deck inter-city coaches to work Amtrak services in Illinois, Wisconsin, Missouri, California and Washington.
Another $100m has been committed for track improvements on CN's Illinois Central main line between Chicago and Carbondale, which hosts the state-supported services to Champaign-Urbana and Carbondale as well as the long-distance City of New Orleans.
The package provides $400m towards the CREATE PPP programme of rail infrastructure improvements in the Chicago area, including the important 75th Street Corridor Improvement Project to reconfigure freight and Metra routes to the south of the city.
Another provision in the bill would authorise the state government to work with private developers on the proposed One Central project to develop a new hub for Amtrak, Metra and CTA metro services adjacent to the existing Union Station. This could also serve as a potential terminus for a Midwest high speed rail network.