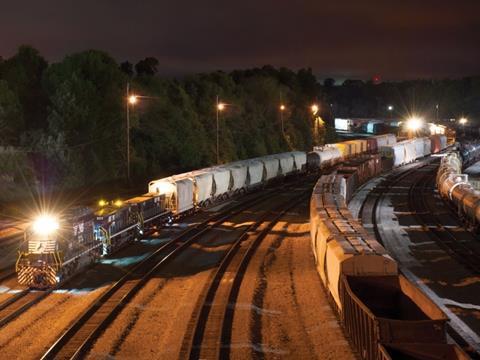 USA: Reporting 'another year of record financial results' on March 29, Norfolk Southern Chairman, President & CEO James Squires said the railway had seen strong growth in 2018, achieving an all-time best operating ratio of 65·4 after three consecutive years of improvement and a recording a 9% year-on-year increase in railway operating revenues to $11·5bn.
Noting that NS had started 'reimagining' its business following a strategic review, Squires said 'we are hard at work on initiatives to drive shareholder value, from new ways of operating the railroad to new ways of marketing our services'. As part of the transformation programme, NS has appointed three executives to new roles with effect from April 1. All three report directly to Squires.
John Scheib becomes Executive Vice-President & Chief Strategy Officer, heading up a Service Optimization & Customer Engagement Division that combines strategic planning activities with new departments for Network Planning & Optimisation and Customer Operations.
Former NS Vice-President, Human Resources, Annie Adams has been promoted to Executive Vice-President & Chief Transformation Officer. She will oversee a new Transformation Division that brings together the departments of Information Technology, Human Resources, Labor Relations and Corporate Communications.
Scheib is succeeded as the company's Chief Legal Officer by Vanessa Allen Sutherland, who becomes Senior Vice-President, Law. She joined Norfolk Southern's legal team last year, having held a variety of government and corporate positions, including Chief Counsel at the federal Department of Transportation's Pipeline & Hazardous Materials Safety Administration.