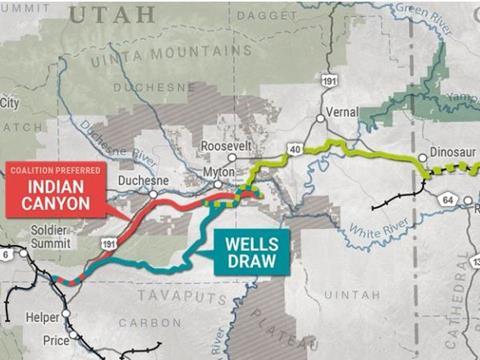 USA: Proposals for the construction of a 160 km freight railway to serve the Uinta Basin region of Utah state are to be taken forward under a public-private partnership, with the aim of starting construction in 2022.
The Uinta Basin Railway is being promoted by the Seven County Infrastructure Coalition, which was established in 2014 to co-ordinate regional planning and economic development in Carbon, Daggett, Duchesne, Emery, San Juan, Sevier and Uintah counties. Located between the Uinta mountains and the Tavaputs plateau, southeast of Salt Lake City, the basin is predominantly used for agriculture, livestock and grain production, but also contains under-exploited oil and gas reserves and produces coal, fertiliser and asphalt.
SCIC investigated 29 potential routes for the railway, looking to minimise construction and operating costs as well as environmental impact. After shortlisting eight options, it has now proposed three alternatives to the Surface Transportation Board for evaluation under the National Environmental Policy Act. The coalition's preferred option runs westwards from the Roosevelt-Mytton area through Indian Canyon to meet the Union Pacific's former Denver & Rio Grande main line, near Soldier Summit. A second route runs further south via Wells Draw, whilst the third heads east to meet the former Denver & Salt Lake Craig branch in Colorado.
The SCIC board has selected Drexel Hamilton Infrastructure Partners for the PPP concession to finance and build the railway. Drexel Hamilton has in turn partnered with Rio Grande Pacific Corp to operate and maintain the line; RGPC operates 1 125 km of short lines and regional railroads in six states.
As public partner, SCIC will be responsible for obtaining environmental approval and authorisation from the Surface Transportation Board. It will also develop a formal partnership with the Ute Indian Tribe.
Having issued a notice of intent under NEPA, the coalition expects to undertake public consultations during the second half of 2019, with the draft Environmental Impact Statement to be finalised by the end of 2020. This would pave the way detailed design work during 2021 and construction in 2022-23.
'This is an important milestone for the project', said SCIC Executive Director Mike McKee, announcing the choice of PPP partner. 'Drexel Hamilton brings a wealth of industry experience and valuable resources and we are excited to partner with them to advance the Uinta Basin Railway.'