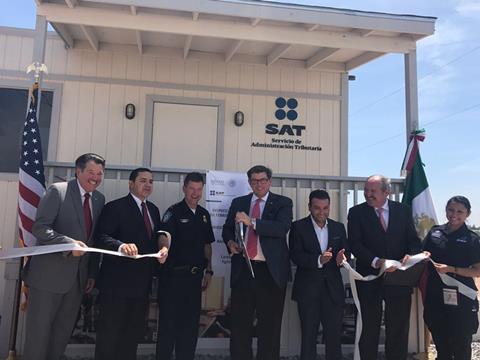 NORTH AMERICA: Kansas City Southern, US Customs & Border Protection and Mexican customs agency SAT inaugurated a joint rail freight processing facility at the Laredo border crossing in Texas on August 17.
The facility enables Mexican export processing to be undertaken at the US railhead, with equipment for non-intrusive security scanning.
KCS said the Laredo/Nuevo Laredo rail crossing is the busiest on the border, processing an average of 23 trains in both directions per day carrying products including cars and parts, steel, grain and petroleum. Eliminating the need to stop trains on the cross-border bridge would increase the fluidity of train movements, while improving security and reducing traffic congestion.
'As our governments begin the important work of updating the North American Free Trade Agreement this week, we must all remember the importance of the NAFTA trade relationship to both countries and both economies', said KCS President & CEO Patrick J Ottensmeyer. 'This project, and others to follow, are essential to facilitate the goal of expanding trade and particularly increasing exports of goods such as refined petroleum products and petrochemicals from the USA to Mexico.'