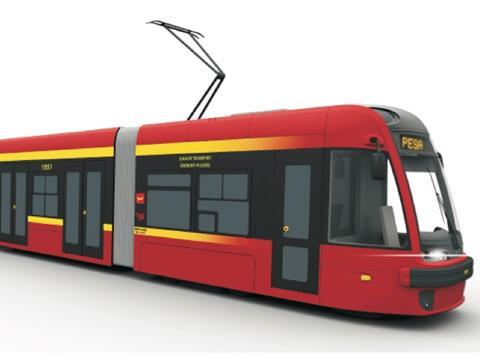 POLAND: MPK Łódź signed a contract with Pesa on December 30 for the supply of 22 Swing trams. The transport authority says that this is one of the largest tram tenders in the city's history. Pesa was selected over Solaris, which was the only other bidder.
The five-section unidirectional low-floor trams would be 30·5 m long and 2 400 mm wide with capacity for 207 passengers, including 40 seated. The air-conditioned vehicles would feature walkthrough gangways with a minimum width of 770 mm, with access through four double doors and two single doors. Other onboard features would include a ticket vending machine, a passenger counting system and real-time diagnostic reporting. Maximum speed would be 70 km/h.
The 166m złoty contract is 40% financed with EU funds and includes maintenance and depot staff training. The trams are to enter service from late 2015 and will serve the main east-west route; the infrastructure refurbishment project is due to end around then. This will be the second order of Pesa trams for the metre-gauge network, following the 10 that have been in service since 2008.