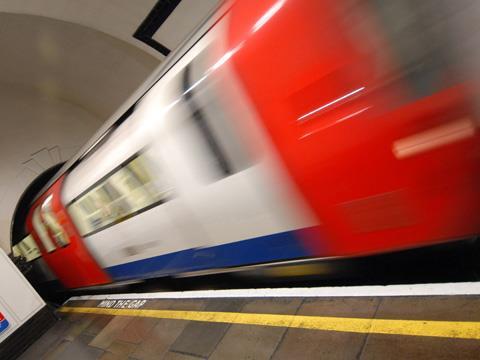 UK: Swelled by crowds travelling to and from Olympic Games venues across the capital, ridership on the London Underground network reached a new record of 4·5 million passenger-journeys on August 7, according to Transport for London. This was the fourth time in a week that the record had been broken. By comparison, the average weekday ridership in August 2011 had been around 3·8 million.
Underground ridership has been rising rapidly for the past two decades, with a 16% rise in the last seven years. Earlier this year LU Chief Operating Officer Howard Collins told Metro Report International that annual traffic had doubled from 550 million trips in 1984 to 1·1 billion in 2010-11. LU's previous ridership record of 4·17 million had been set on December 9, during last year's Christmas shopping season, when a record 95·8 million passengers were carried in the four weeks to December 10.
Following the start of the Games on July 27, travel in London rose steadily as more events got underway at 20 different venues. The ridership record was first broken on Wednesday August 1, when 4·25 million pasengers were carried. The figure rose to 4·31 million the following day, and 4·4 million passengers on Friday August 3.
Meanwhile, the Docklands Light Railway network has been carrying up to 70% more passengers than normal, handling a reported 500 000 passengers on August 3. London Overground also saw a 27% increase in ridership during the first week of the Games, with TfL reporting a total of 2·86 million passengers.
Mayor of London Boris Johnson said 'sporting records are being smashed on a daily basis in London, and our world-famous Tube is breaking a few records of its own.' Transport Commissioner, Peter Hendy added that the network was 'carrying these record numbers and keeping London moving and open for business because people are following our advice and planning their travel. What we're seeing is some people avoiding the peak hours and travelling at less busy times.'
A review of the investment projects to increase capacity on London's rail networks by 30% ahead of the Olympic and Paralympic Games was published in the May 2012 issue of Railway Gazette International. This is available to subscribers in our digital archive.