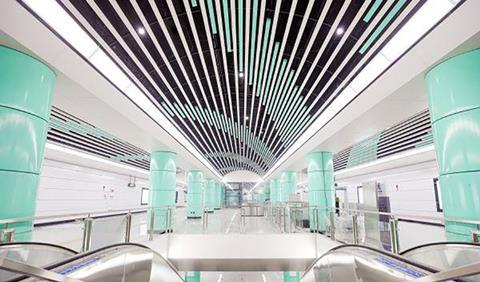 CHINA: The 34 km cross-city metro Line 4 and a 14·2 km southbound extension of Line 2 opened in Shenyang on September 29.
The north-to-south Line 4 links Zhengxin Lu to Chuangxin Lu. Construction of the city's fifth metro line started in November 2015.
The Line 4 fleet consists of 35 six-car Type B trainsets supplied by CRRC Dalian. They feature a passenger counting system which indicates busier and quieter parts of the train for passengers.
Meanwhile, Line 2 has been extended south of the city from Quanyun Lu to Taoxian Jichang station at Shenyang Taoxian International Airport. The extension has taken Line 2 to 47 km, making it the longest metro line in Shenyang to date.
Shenyang Metro has procured 43 six-car, Type B2 trainsets from CRRC Dalian to serve the extension as well as to increase frequency on the entire line.
Also on September 29, work was formally launched on a 7·7 km eastbound extension of Line 9. Due to open in 2028, this will extend the route from Jianzhudaxu University to Shimiaozi. Also under construction are an eastern extension of Line 1 (6 km, 4-stations), a new Line 3 (east-west: 41·3 km, 30 stations) and a new Line 6 (north-south: 41·3 km, 30 stations).
With the two additions, the Shenyang network now totals 164 route-km.