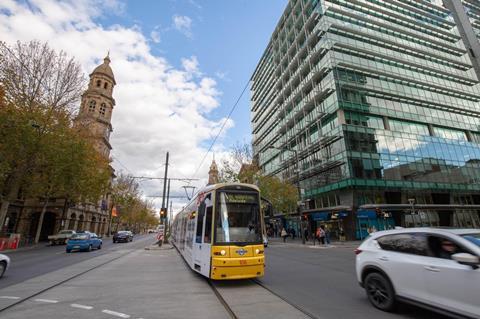 AUSTRALIA: The Torrens Connect joint venture of local bus operator Torrens Transit, UGL Rail Services and John Holland has been selected to operate light rail services in Adelaide, under a contract announced by the South Australian Public Transport Authority on March 10.
The deal forms part of a package of bus and tram contracts tendered by the state government last year; these will follow on from the existing eight-year contracts held by SeaLink Travel Group company Torrens Transit and Keolis Downer subsidiary Southlink, which expire in July.
Torrens Connect has been awarded the North South network, which combines both bus and tram services. Torrens Transit will operate the Outer North East, East West and Outer North bus contracts, while Southlink will continue to run the Hills services and Outer South will be run by Busways South Australia.
'This is the single biggest lever we have to improve bus and tram services and drive patronage growth' said state Transport Minister Stephan Knoll. 'Adelaide's public transport system is stuck in the 20th century and this new contract is an opportunity to bring in 21st century technology and service delivery methods.'
As partners in the Metro Trains Melbourne operating concessionaire, UGL Rail Services and John Holland will provide the rail expertise for Torrens Connect. UGL Rail Services supports light rail operations in Hong Kong, while John Holland is active on the Sydney metro and Canberra light rail networks.
The state government says it will now work with the successful contractors to deliver a range of service improvements by the end of 2020. 'We will be releasing details about the improvements in the coming weeks, ahead of a consultation period', explained Knoll. 'Now the contracts have been signed, we can begin working with the providers to deliver the best possible bus and tram network for South Australians.'
According to SeaLink CEO Clint Feuerherdt, the integration of high frequency bus and tram services in the North South contract will 'allow for innovation in service delivery' and 'open up new destinations' for customers. 'The new tender has allowed us to bring in our global best practice experience, matched with our local market knowledge and history, to create a tailored series of network improvements', he explained.
Tendering is currently underway for a contract to operate Adelaide's suburban rail network, with a winning bidder to be announced in the second half of this year. The state government has shortlisted three bidders: the Adelaide Next consortium of Deutsche Bahn, Bombardier Transportation Australia and John Holland, Keolis Downer (Southlink), and the TrainCo consortium of Transdev and CAF.