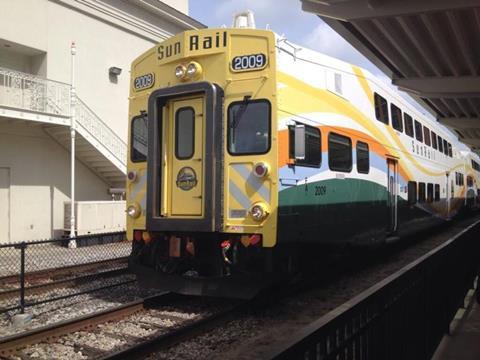 USA: The Federal Transit Administration announced on September 28 that it is to provide a $93·4m Full Funding Grant Agreement for the extension of the SunRail commuter rail line by 27·7 km from Sand Lake Road in southern Orlando to Kissimmee and Poincana.
The funds from FTA's Capital Investment Grant Program represent around half of the $186·9m estimated cost of Phase II South. The remainder is to be covered by the State of Florida together with Orange and Osceola counties.
Four stations would be built, at Meadow Woods, Osceola Parkway, Kissimmee Amtrak and Poinciana. The extension would also include the procurement of two locomotives and four coaches, as well as the construction of a depot and maintenance facility. SunRail expects the extension to add 2 000 passenger-journeys per day once it opens in 2019.
SunRail's 50 km first phase from DeBary to Sand Lake Road opened in April 2014. It operates a fleet of seven MotivePower diesel locomotives and 20 Bombardier double-deck coaches. Bombardier is also providing operations and maintenance services under a 10-year contract signed in April 2013.