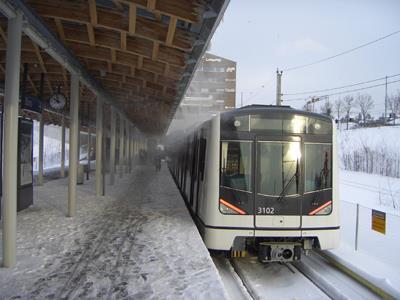 NORWAY: On December 21, rolling stock leasing company Oslo Vognselskap AS signed a €180m contract with Siemens Mobility for the supply of a further 32 three-car metro trainsets.
The MX3000 vehicles will be manufactured in Wien and delivered to Oslo in 2012. They will allow the operation of more frequent services on the city's eastern T-bane routes and enable more trains to be worked as six-car formations.
The order is the fourth for MX3000 trainsets, which began with a contract signed in 2003 for an initial 33 three-car sets. This was followed by further orders for 30 sets in 2005 and 15 in 2008 as the western branches of the 85 km T-bane network were progressively upgraded to metro standards. In addition, Akershus municipality ordered five sets for its share of the Kolsås line. All 83 trainsets have now been delivered, allowing the withdrawal of all of Oslo's original T1000 and T1300 stock by mid-2010.
The aluminium-bodied MX3000 sets are 54 m long, with through gangways and capacity for around 500 passengers, with 138 seated. They are designed to operate at temperatures down to -25°C, and have a maximum speed of 80 km/h.
According to Siemens, the trains feature a strong focus on environmentally-friendly design, with 95% recyclability and a 46% recovery of traction energy through regenerative braking. Low energy consumption is a prerequisite as the city's public transport network uses alternative and renewable energy sources. Oslo was ranked third in the European Green City index published by the Economist Intelligence Unit in December 2009.