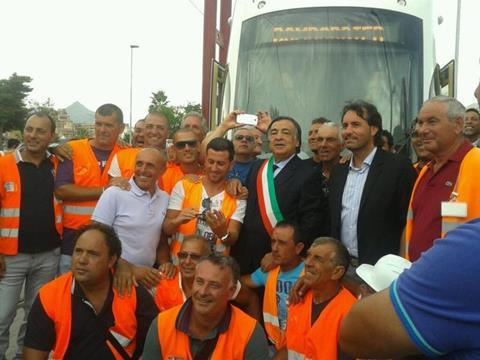 ITALY: The first tram for Palermo was officially launched by Mayor Leoluca Orlando on July 14. The vehicle ran from the Roccella depot to Scaffa Square, where it was presented to the public.
Transport authority AMAT ordered 17 100% low-floor Flexity Outlook trams from Bombardier Transportation in 2006 for its 15 km light rail network. This is being built by a consortium led by SIS and including Bombardier, EDS and Mosco. Bombardier is also supplying its Cityflo 150 traffic management system.
The bidirectional air-conditioned trams are 32 m long and 2 400 mm wide, with a capacity of 56 seated and 132 standing passengers. Maximum speed is 70 km/h.
The vehicles are being built in Wien, with electrical equipment supplied from Mannheim and bogies from Siegen.
Line 1 will link Roccella with Palermo Central Station; Line 2 will connect Piazza Armerina and Notarbartolo and Line 3 will diverge from Line 2 at Einstein to serve Terminal CEP. With test running underway on a section of Line 1 between Roccella and Ponte dell-Ammiraglio, this line is currently expected to open for revenue service in 2015.