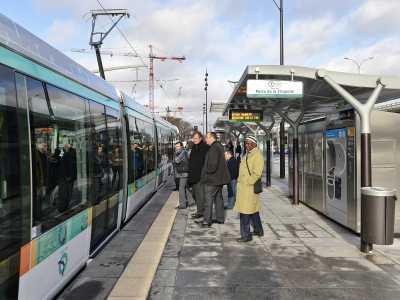 FRANCE: The 14·3 km extension of orbital tram route T3 following the Boulevards des Maréchaux ring road around the eastern side of Paris was opened for revenue service on December 15. This trebles the length of T3, which has been running for 7·9 km across the south of Paris from Pont du Garigliano to Porte d'Ivry since 2006, and adds 24 stops.
Heading northeast from Porte d'Ivry, the extension crosses the Seine to an interchange with metro Line 1 at Porte de Vincennes. Continuing northwards through the Lilas district, where it connects with metro lines 3bis, 11 and 7bis, the route then curves westwards to terminate at Porte de la Chapelle, where it connects with Line 12.
Cost of the civil works is put at €651·9m, of which €433·6m has been funded by the city and €218·3m by Ile-de-France. The city has contributed a further €149m for urban enhancements, whilst RATP has funded the 25 additional Citadis 402 low-floor trams ordered in September 2010 at a cost of €77m.
Opening of the extension has seen T3 split into two separate services, in order to minimise the propagation of any disruption due to traffic conditions. The existing route becomes T3a, linking Pont du Garigliano with Porte de Vincennes, whilst T3b covers the eastern and northeastern section of the ring. At Porte de Vincennes, two pairs of tracks diverge from the ring line to reach stub termini located on each side of the metro station.
T3 has been handling around 110 000 passengers/day, but this is expected to jump significantly, with T3a projected to carry 137 000 and T3b a further 165 000.
Last week the city council voted to push ahead with a further 4·7 km extension of T3 from Porte de la Chapelle to Porte d'Asnières. Included in STIF's 2014-20 master plan with a provisional cost of €205m, this is expected to open in 2017.
The T3 extension is the third tram route to be opened in Paris in exactly a month. Route T1 was extended westwards from Saint Denis to Asnières-Gennevilliers–Les Courtilles on November 15, and a northwestern extension of T2 from La Défense to Pont de Bezons followed four days later.