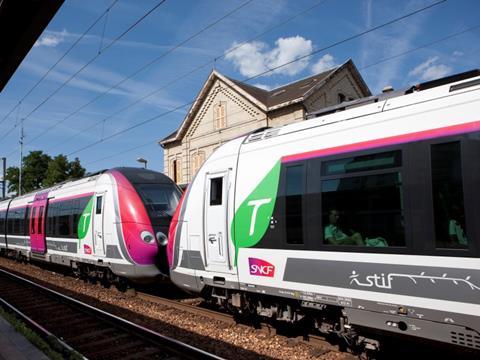 FRANCE: Ile-de-France transport authority STIF has asked SNCF and RATP to prepare technical and financial plans, including timescales, for a wholescale renewal of the Paris suburban and RER fleet which could see 700 trainsets replaced or refurbished by 2021 at a cost of €8∙5bn.
At its meeting on March 30, the STIF board agreed to proceed with a line-by-line analysis with a view to replacing or refurbishing the existing fleet of 1 200 trainsets. STIF notes that the average age of rolling stock on the Ile-de-France network is over 20 years, with more than 200 trainsets being over 30 years old, and that most trains are 'antiquated' and 'unwelcoming', lacking wi-fi and in most cases in-car CCTV.
In the medium term, the 2016 STIF investment budget of €1∙5bn, up by 49% on the year before, includes €121m to wholly finance the acquisition of 12 additional Francilien EMUs for lines H and L of the SNCF suburban network, to be introduced between the end of 2017 and March 2018. STIF is also to provide €54m towards a €108m refurbishment of 54 Z2N double-deck EMUs operating on RER Line C, which are to be equipped with new passenger information systems and CCTV.