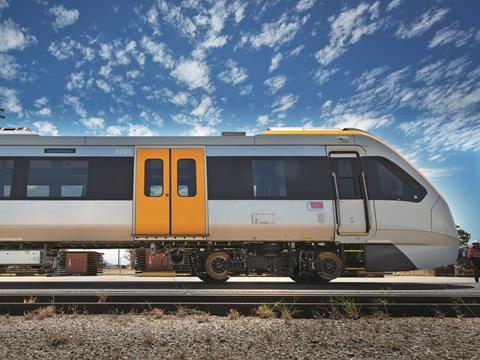 AUSTRALIA: Queensland Rail is to recruit additional station staff to assist mobility-impaired passengers using the six-car EMUs being supplied to Queensland Rail under the New Generation Rollingstock PPP concession.
The first of 75 sets are now expected to enter service later this year, CEO Nick Easy confirmed on June 27. He said Queensland Rail was working 'closely' with the Bombardier-led Qtectic consortium and other stakeholders including the Department of Transport & Main Roads 'to address design issues with the new fleet'. The braking problems which saw deliveries suspended earlier this year are reported to have been solved. 'While this work is underway, it is important that we continue to prepare our network so that they enter service seamlessly this year', he continued.
Queensland Rail plans to put the first units into service on the Airport and Gold Coast lines, helping to meet higher demand and provide improved service during the 2018 Commonwealth Games. 'Visitors from every corner of the globe will be coming to the Gold Coast for the 2018 Commonwealth Games and we plan to have our newest, most advanced train fleet operational to serve them', Easy explained.
The provision of boarding assistance to at stations has been an area of intense debate. Because the older EMUs operate as pairs of three-car sets with the guard in a centre cab, Queensland Rail has established 'assisted boarding points' at the centre of each platform, but on the six-car NGR sets the guard will be travelling at the rear.
Easy said the railway had 'thoroughly consulted with our people, stakeholders and the disability sector to ensure all customers will continue to be well supported'. The assisted boarding point will remain in the middle of the platform, with station staff providing assistance rather than the guard. Queensland Rail has therefore committed to staff the stations on the Gold Coast and Airport lines 'from first service to last', requiring the recruitment of an extra 21 customer service employees to join the current team of 650.
'As well as being able to provide increased assistance to customers, this change will also mean amenities like ticket windows and toilets will be open for significantly longer periods – something our customers have told us they would like to see', said Easy. 'Our customers' safety and satisfaction are our highest priorities and I am confident that this change will deliver improvements in both of those areas.'