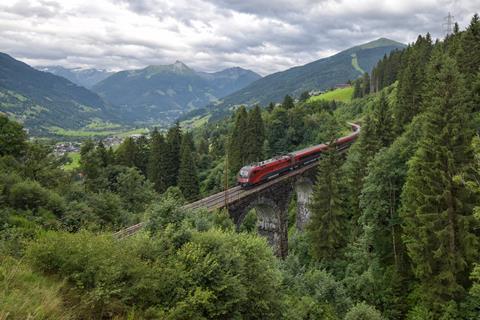 EUROPE: Citing a boom in rail traffic between Germany and Austria, ÖBB and DB have announced plans to increase long-distance cross-border services from the December 10 timetable change.
By the end of 2023, the operators are forecasting that ridership will be around 40% higher than it was five years ago.
From December, two Intercity Express trains in each direction per day will link Hamburg and Wien via Berlin and Nürnberg. DB and ÖBB will also introduce a daily ICE linking Berlin and Innsbruck via Frankfurt and Stuttgart, expanding a service that currently only runs at weekends.
Long-distance trains will run hourly between München and Salzburg from 06.00 to 21.00 each day, with Innsbruck – München services every 2 h between 06.40 and 21.40.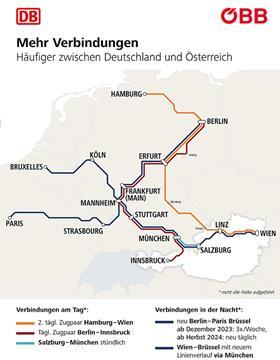 The two operators plan to deploy their newest trainsets on the cross-border routes. DB's ICE 4 trainsets will be used on the Frankfurt – München – Salzburg – Klagenfurt route from the timetable change, while ÖBB's latest build of Railjet trains now in production at Siemens Mobility will be introduced on services between München and Italy from April 2024.
ÖBB and DB are also expanding their co-operation on overnight services which operate under the Nightjet brand. From December, an integrated Nightjet service will connect Berlin and Wien to Paris and Brussels, operating via München. The trains will initially run three times a week, becoming daily from autumn 2024.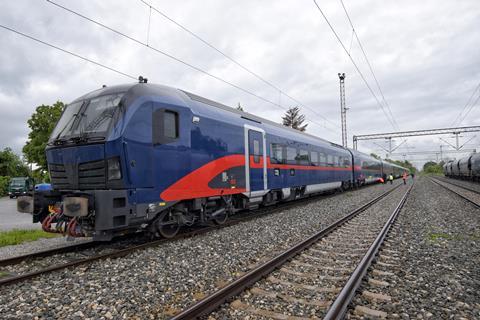 The first of ÖBB's new generation Nightjet trainsets are expected to enter service from the turn of the year. They will initially be deployed on the Hamburg – Wien and Hamburg – Innsbruck services, and then be introduced on other routes connecting Germany, Austria, and Italy over the course of 2024. The operator emphasised that the 230 km/h trainsets would offer 'a new level of comfort', including individual mini cabins in the couchette accommodation and enhanced accessibility for passengers with reduced mobility.
'The trend towards rail travel is unstoppable', commented Stefanie Berk, Head of Marketing & Sales at DB Fernverkehr. 'More and more people in Germany and Austria are using the climate-friendly railway to travel internationally. We want to continue the growth with new trains, more comfort and additional connections. This is only possible through a joint effort by the railways involved. The expansion of the international timetable in close co-operation with ÖBB is our answer to the growing demand.'
ÖBB's Board Member for Passenger Transport Sabine Stock added that 'by 2030 we want to double the number of passengers using Nightjet trains. Deutsche Bahn plays an important role here, as many Nightjet routes start and end in Germany. The new connections from Berlin to Paris and Brussels and the use of the new generation Nightjets in Germany are strong signs that DB and ÖBB believe in night trains and want to provide more services.'