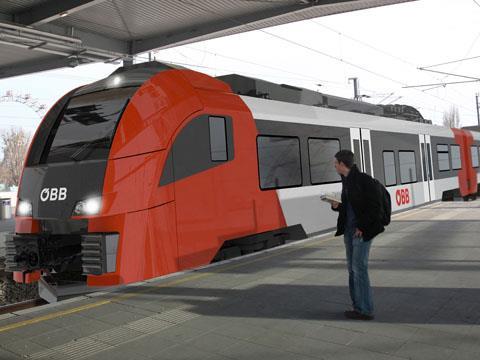 AUSTRIA: The Austrian Federal Railways' supervisory board authorised a firm order for 100 Siemens Desiro ML electric multiple-units on January 30. A contract worth €550m is to be signed following the regulatory standstill period.
The order is being placed within a framework for up to 200 EMUs which was agreed with Siemens in April 2010.
The three-car 160 km/h EMUs are to be delivered from the end of 2015. The order comprises 30 units to a high-density design for use on Wien S-Bahn services, which will offer 244 seats and six doors per side.
The other 70 units will a regional version with 259 seats and four doors per side. Of these, 35 will be deployed in Niederösterreich, 18 in Steiermark and 17 in Oberösterreich.
The bodyshells for the EMUs will be supplied from Siemens' Krefeld plant and bogies from the company's Graz facility, with final assembly to take place at ÖBB Technische Services' Jedlersdorf site.