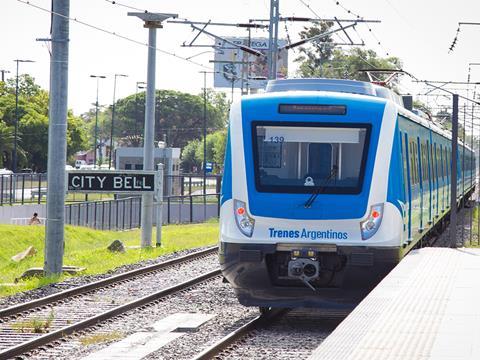 ARGENTINA: The federal government announced on September 26 the start of tendering for what it describes as the largest rolling stock order ever to be placed for the Buenos Aires commuter network, covering the supply of 1 500 EMU cars or 169 trainsets plus maintenance over 10 years in five new depots.
Deliveries would take place in a staged programme running from the second half of 2020 to 2023. The order would represent investment of US$2bn, not including spare parts and maintenance which is expected to create 1 000 new jobs.

According to Transport Minister Guillermo Dietrich, the new fleet would accompany the major infrastructure investment programme now underway on the Buenos Aires commuter network, including electrification and new tunnels to create an RER network for the capital. Increasing train capacity from the current fleet of 1 346 cars would enable services to operate as frequently as every 3 to 5 min.

The new air-conditioned EMU fleet would feature free onboard wi-fi, wireless CCTV and a real-time passenger information system enabling the number of free seats on a service to be displayed before it arrives at a station. Each trainset would be able to accommodate 2 000 passengers, according to the ministry, and would consume 15% less energy than existing rolling stock.

With 20% of components to produced locally, the new train order is expected to generate US$300m of investment in the supply chain and generate 2 000 manufacturing jobs. According to the ministry, components that could be manufactured in Argentina include aluminium bodyshells, air-conditioning equipment, seats and doors.