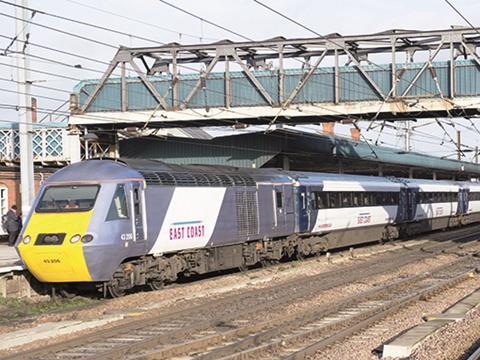 UK: The Inter-City Railways consortium of Stagecoach Group (90%) and Virgin Holdings (10%) has been selected to operate inter-city services on the East Coast Main Line, the Department for Transport announced on November 27. The contract is to be signed following the usual 10-day standstill period.
Starting on March 1 2015, the franchise will run for eight years, with an optional one-year extension at DfT's discretion. The operator has committed to paying premia valued at £3·3bn over the eight years, or £2·3bn in net present value.
The ICR proposal was selected ahead of bids from FirstGroup and a consortium of Eurostar and Keolis, which are both majority-owned by French state railway SNCF. Because the services have been run by the state-owned Directly Operated Railways since the previous franchise was terminated five years ago, the business is being returned to the private sector through a trade sale of DOR subsidiary East Coast Trains, rather than a transfer of the franchise.
'This is a fantastic deal for passengers and for staff on this vital route', said Secretary of State for Transport Patrick McLoughlin. 'It gives passengers more seats, more services and new trains. I believe Stagecoach and Virgin will not only deliver for customers but also for the British taxpayer.'
Virgin and Stagecoach currently operate the InterCity West Coast franchise through a 51%:49% partnership, while Stagecoach also holds the East Midlands Trains franchise, giving it a stake in all three main lines to the North of England and both routes to Scotland.
ICR will be responsible for operating the fleet of Class 800 and 801 trainsets being procured by DfT from the Hitachi-led Agility Trains consortium under the Intercity Express Programme. This will see around 500 vehicles introduced between 2018 and 2020, formed into 65 nine-car and five-car sets. These will replace 39 of East Coast's 44 existing diesel HST and electric IC225 trainsets, adding more than 12 000 seats to the fleet.
Using the Virgin Trains East Coast brand, ICR has committed to introducing 23 new services from London each day, adding 75 more station calls according to DfT. ICR will shortly begin talks with Network Rail and the Office of Rail Regulation to obtain paths for direct services from London to Sunderland, Middlesbrough and Huddersfield, in competition with DB-owned open access operator Grand Central. It is also looking to run more trains from London to Edinburgh, Leeds, Lincoln, Shipley, Stirling, Harrogate and Bradford.
According to Stagecoach, direct services from London to Sunderland and Stirling will start in December 2015, with extra weekday trains to Edinburgh from May 2016 giving a 'half-hourly frequency for most of the day'. A new timetable would be introduced from May 2019, featuring faster services, and a direct service between London and Middlesbrough. There would also be direct trains every 2 h between Bradford, Harrogate, Lincoln and London, and peak services between Huddersfield and London.
Additional paths may be released through the installation of ETCS on the southern part of the ECML, which is due to be completed by 2020. Meanwhile, ICR is looking to cut London – Leeds journey times by 14 min to 2 h, and London – Edinburgh by 13 min to 4 h.
The franchisees have committed to invest £140m in additional passenger benefits over the eight years, including including £13·4m for a 'deep clean' and refurbishment of the existing trains, 'better wi-fi connections and onboard catering' on the IEP trainsets, improved ticket offices and 170 new ticket vending machines, plus more than 500 new car parking and 411 additional cycle spaces. Meanwhile, ICR has committed to reduce 'all long-distance standard anytime fares' by 10%.
There will also be a training fund for new apprenticeships, internships and staff development. Stagecoach Group Chief Executive Martin Griffiths said 'we have some fantastic ideas to deliver a more personal travel experience for customers. Investing in the committed people who will make that happen is a big part of our plans, giving opportunities for them to develop and grow into more senior roles.'
An interview with Stagecoach Group Chief Executive Martin Griffiths appeared in the May 2014 issue of Railway Gazette International, available to subscribers via our digital archive. For in-depth news and analysis of the UK rail industry, read Rail Business Intelligence.