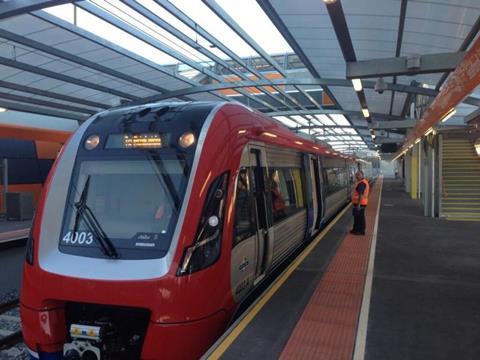 AUSTRALIA: Electrification of the 40 km Adelaide – Gawler suburban route is set to resume in the coming weeks, following the award of a contract for the first phase of the A$615m project.
The South Australia state government announced on January 18 that it had selected Lendlease to complete 25 kV 50 Hz electrification of the first 20 km between Adelaide and Salisbury, with this phase now expected to be completed by mid-2020.
The Gawler line was due to have been electrified throughout by 2013 as part of an ambitious programme to wire the entire Adelaide suburban network, announced in 2009. However, the project was subsequently halted with only the southern route to Noarlunga and Seaford completed. When work on the northern line stopped, around 500 masts had been manufactured and 300 masts and footings had been installed. Preparatory works including utility diversions had also been underway.
In June 2014, the government announced that electrification would recommence in 2017-18. In July 2017 it invited expressions of interest for completing the first stage at an estimated cost of A$152·5m, with a view to selecting a preferred bidder by the end of the year. According to state Transport & Infrastructure Minister Stephen Mullighan, announcement of the contract had been delayed by the Liberal opposition, ahead of the forthcoming state elections in March.
Noting that 'since we electrified the Seaford line, patronage has increased by over one million additional trips a year', Mullighan said the Gawler line was the city's 'most popular train service, with patronage increasing by more than 30% in the seven years to 2017'. At present it is carrying around 17 000 passengers each weekday, and 'completing the electrification of the entire line' would increase capacity at peak times by an estimated 2 400 passengers/h.
With the first stage contract signed, Mullighan said he expected to see works recommence 'within weeks'. However, he was still awaiting a funding commitment from the federal government, which 'would allow us to extend the contract to deliver the entire project from Adelaide to Gawler'.
Lendlease plans to expand its NorthHub facility to deliver the project, employing around 135 people during the construction phase. A further 95 jobs could be created if the second stage goes ahead. 'This investment by the state government will see a significant expansion of Adelaide's electrified rail network, ensuring services between Adelaide and Salisbury are faster, cleaner and more frequent', said Lendlease Engineering & Services Chief Executive Craig Laslett.