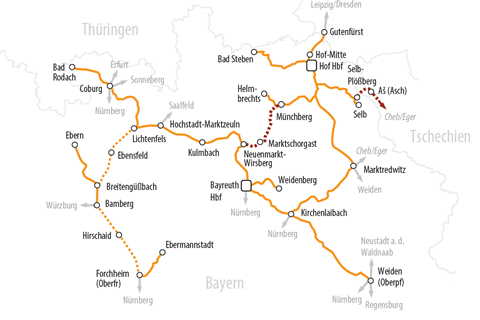 GERMANY: Bayern Land railway agency BEG has selected Agilis for a contract to operate regional passenger services in Oberfranken for 12 years from December 2023.
The contract will bring together all diesel-worked services in the region, most of which are currently operated by Agilis with some by Länderbahn and Erfurter Bahn. These are:
RB18 Bad Rodach – Coburg (– Lichtenfels);
RB22 Forchheim – Ebermannstadt;
RB24 Lichtenfels – Bayreuth;
RB 26 Bamberg – Ebern;
RB34 Weidenberg – Bayreuth - Weiden;
RB95 Hof – Aš;
RB96 Hof – Selb Stadt;
RB97 Bayreuth – Marktredwitz – Bad Steben;
RB98 Münchberg – Helmbrechts;
RB99 Neuenmarkt-Wirsberg – Hof – Gutenfürst
The planned services will total 5·4 million train-km/year, an 8% increase on current levels, with hourly trains every day on most routes, operations later into the evening and new stations planned at Hof Mitte, Coburg-Beiersdorf, Forchheim-Nord and Bamberg-Süd.
The selection of Agils was announced by BEG on September 29, with formal award of the contract subject to the 10-day regulatory standstill period.