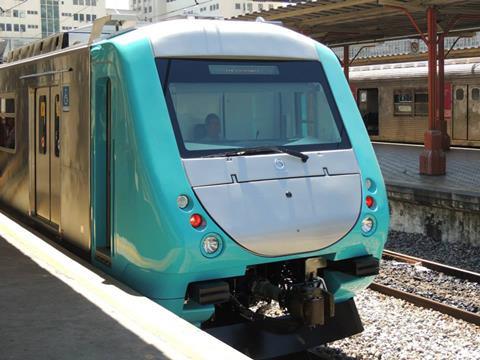 BRAZIL: Rio de Janeiro commuter operator SuperVia has taken delivery of an initial Alstom Metropolis electric multiple-unit for testing, a year after the €105m order for 10 eight-car units was placed in December 2012. Entry into service is planned by the end of March, with deliveries to be completed by September.
The high-capacity eight-car EMUs with wide gangways and four doors per car side are able to carry up to 2 600 passengers, and feature CCTV, LED displays and air-conditioning.
The stainless steel cars are being produced at Alstom's Lapa plant in São Paulo, with final assembly and testing at a new plant in the Deodoro area of western Rio de Janeiro. This was built at a cost of €12m, split equally between SuperVia which provided the site and Alstom which built the factory.
SuperVia has seen rapid growth in ridership from 400 000 passengers/day in 2007 to 600 000 today, and a result brought forward the order for the EMUs which its concession agreement specified would be delivered in 2017-20.