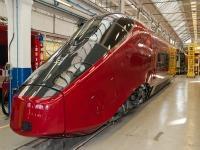 ITALY: On November 30 Alstom Transport presented the first of eight AGV.italo high speed trainsets that it is building at its Savigliano works for open access operator Nuovo Trasporti Viaggiatori. NTV has ordered 25 AGV trainsets from Alstom, 17 of which have been produced at the La Rochelle plant in western France.
'The experience of NTV, now ready for commercial service, is awaited with great interest and will be studied carefully in other countries', said NTV CEO Giuseppe Sciarrone. 'Meeting such a challenge in such a short time frame would not have been possible without the enormous experience in high speed and the technological reliability of Alstom'.
NTV now expects to launch commercial services in early 2012 between Torino and Salerno, via Roma and Napoli. A Roma – Venezia service is also planned.
Alstom's Savigliano plant near Torino is also supplying four Class 390 tilting trainsets for UK operator Virgin Trains, as well as 62 additional cars to lengthen existing formations. 'The additional Pendolino trains and carriages will enable us to add thousands of extra seats to our services which is great news for passengers, who love the Pendolino', said Virgin Trains CEO Tony Collins.