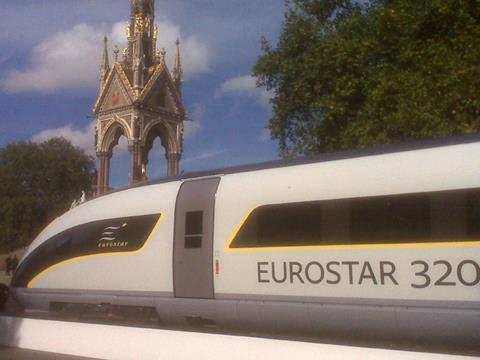 EUROPE: The European Commission confirmed on November 4 that it was reviewing Eurostar International's decision to order e320 Velaro trainsets from Siemens as part of its planned £700m expansion programme.
Described as 'preliminary', the four-week investigation has been triggered by a complaint from Alstom alleging that Eurostar's tendering process did not comply with EU public procurement rules. The Commission has requested information from the UK authorities before launching a formal investigation.
Eurostar selected Siemens following a 'market testing' process undertaken using the UK rail sector's Link-Up system, which relies on negotiations with a group of registered suppliers rather than issuing a specific OJEU notice for each individual procurement. Alstom was one of the suppliers invited to make proposals during the market testing exercise; both Alstom and Siemens submitted Best & Final Offers when Eurostar decided that there was a business case for ordering new trains.
Single Market Commissioner Michel Barnier originally indicated that he saw no problems with Eurostar's use of Link-up, but EC officials said on November 4 that Alstom's complaint had 'raised questions which do justify further investigation.' Alstom Chief Executive Patrick Kron said the company had 'a problem with the way in which Eurostar managed this tender'.
Following the announcement of the planned order on October 7, the French government issued a strongly-worded statement suggesting that Velaro trainsets would not be acceptable as the Channel Tunnel safety regulations did not permit the use of distributed traction. This ignored the fact that Alstom had offered an AGV design which also had distributed traction. Following consultations, the Intergovernmental Commission and Channel Tunnel Safety Authority had indicated in March that they were 'minded' to allow the use of distributed traction, and Eurostar Chief Executive Nicolas Petrovic said the Velaro proposal was 'fully compliant' with the IGC's stated position.
Nevertheless on October 19 Alstom applied in the UK High Court for an injunction, seeking to prevent Eurostar from signing a contract with Siemens until the IGC approved the formal rule change permitting distributed traction through the Tunnel. But after a four day hearing, Mr Justice Vos rejected the claim on October 29. Eurostar told the court it had received confirmation from Alstom during the bidding process that the company considered the uncertainty over the acceptance of trains with distributed traction had been resolved.
Over the past few years Alstom has regularly lodged legal challenges against rolling stock contracts that it has not won, including Bombardier's contract for the Francilien EMUs in Paris and the V300Zefiro high speed train order for Trenitalia. There have been suggestions that the latest referral to Brussels is another attempt to delay the signing of the contract with Siemens until the tender validity expires, forcing Eurostar to re-bid the order.