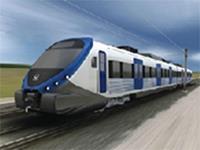 CHILE: State railway EFE announced on October 18 that it has selected Alstom to supply 12 EMUs for its Santiago – Rancagua route. Representing an investment of US$68m, the five-year contract includes maintenance and an option for the supply of a further eight trainsets, and can be extended up to a maximum of 30 years.
'This is the first order for new trains for this section of the network in almost 40 years, which shows that we are making progress with our plans', said EFE President Victor Toledo. 'Our objective is to create and implement a sustainable development model for EFE and the rail mode in Chile'.
Entering service during the first half of 2014, the new X'Trapolis Modular EMUs are expected to cut journey times to 15 min for the 21 km route between Santiago and Nos, with services operating every 8 min and every 4 min in the peaks. An express service running non-stop as far as Nos would cut the fastest journey time on the 82 km Santiago – Rancagua route from 1 h 20 min to 50 min, operating every 30 min and every 15 min in the peaks.
Infrastructure work to support these accelerated services will include the replacement of all level crossings between Santiago and Rancagua with bridges, and improved fencing for the railway.
EFE says that bids for its new train fleet were also submitted by CAF and Talgo, but that Alstom's offer was deemed to be the 'most economic' following an extensive evaluation process undertaken by an external commission.