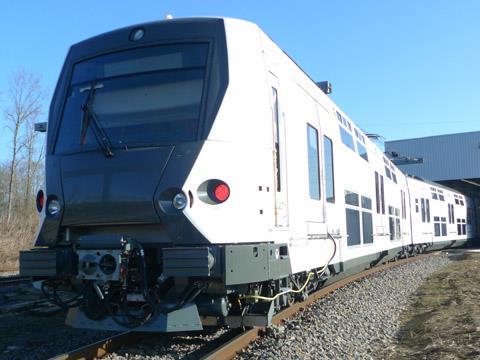 FRANCE: The first MI09 double-deck electric multiple-unit for Paris RER Line A was officially unveiled on February 8. Certification testing is underway with three MI09 trainsets, ready for entry into passenger service by the end of the year.
A consortium of Alstom and Bombardier signed a contract to supply up to 130 units in April 2009, with an initial €917m firm order for 60 trainsets co-financed by transport authority STIF and operator RATP.
The five-car 120 km/h EMUs will replace MI84 single-deck units to increase capacity on Line A to 1 725 passengers per trainset. The MI09 design is derived from the MI2N supplied by the same consortium in the 1990s, but with interior changes to prioritise capacity and ease of movement. The units are 110 m long, with three wide doors per vehicle side and the entrances redesigned to offer a more direct view onto both levels to facilitate fluid passenger movement.
According to Alstom, the 'harmonious colour scheme' and interior lighting reflect 'contemporary trends, creating a soft, tranquil and relaxing atmosphere'. The 'immediately recognisable' exterior 'clearly embodies the identity and values upheld by the RATP: power, speed and flexibility'. The trains are fitted with CCTV and LCD passenger information screens.
Design work was undertaken at Alstom's Petite-Forêt site in Valenciennes, which is assembling the driving vehicles and also undertaking painting using a water-based spray process for the first time. The company's Ornans factory is supplying traction motors, Le Creusot bogies, Tarbes electrical equipment and Villeurbanne control systems. Bombardier is responsible for producing the intermediate vehicles.